Limbic system disorder can be due to a range of factors, including:
genetics

;

environmental stressors;

traumatic experiences. 
Limbic system damage symptoms can vary widely. Still, they may include:
feelings of anxiety or panic;

intrusive thoughts or memories;

difficulty sleeping;

a sense of detachment from oneself or others. 
These symptoms can be debilitating and interfere with daily life, relationships, and well-being.
A range of methods is available in limbic system therapy. These may include psychotherapy, medication, and mindfulness-based practices. Lifestyle changes such as regular exercise and a healthy diet are also beneficial. Depending on the specific condition and symptoms, a doctor recommends different options.
In this article, we will delve into the various therapies. They are available to help manage limbic system dysfunction, including:
cognitive-behavioral therapy (CBT);

exposure therapy;

breathing practices;

gestalt therapy.
We will also discuss the benefits of lifestyle changes, such as regular exercise and diet. So continue reading to discover new valuable information about limbic system dysfunction. 
What is a Limbic System?
The limbic system is a set of nervous structures and their connections. You can recognize them in the mediobasal part of the large hemispheres. They take part in controlling autonomic functions and emotional, instinctive behavior. They also can influence the change in sleep and wakefulness phases.
The limbic system includes the oldest part of the cerebral cortex. They have a location on the inner side of the large hemispheres. It includes: 
the hippocampus;

the cingulate gyrus;

the amygdala nuclei;

the pear-shaped gyrus. 
Limbic system disorder has a relation to higher integrative centers of autonomic function regulation. Neurons of the limbic system receive impulses from:
cortex;

subcortical nuclei;

the thalamus;

the hypothalamus;

reticular formation, and all internal organs. 
A characteristic feature is the presence of well-defined ring neuronal connections. These features unite its various structures. Among the facilities responsible for memory and learning, the main role has:
the hippocampus;

the associated posterior areas of the frontal cortex. 
Their activity is important for the transition of short-term memory into long-term memory.
The limbic system takes part in afferent synthesis. Also, it is essential for controlling the brain's electrical activity. It also regulates metabolic processes and provides several autonomic reactions. Limbic system damage symptoms goes with:
manifestations of defensive behavior;

changes in the activity of internal organs. 
The limbic system is also involved in the formation of behavioral reactions. It contains the cortical section of the olfactory analyzer.
What Does Limbic System Do? 
The limbic system has multiple afferent and efferent connections with other brain structures. Its structures interact with each other. Functions of the limbic system have the basis of integrative processes taking place. At the same time, individual structures of the limbic system have delineated functions. Basic functions that are damaged while limbic system disorder are:
Emotional-motivational behavior

(in fear, aggression, hunger, thirst). It is an emotionally colored motor with reactions.

Taking part in the organization of complex forms of behavior

, such as instincts. One of the most popular are food, sexual, and defensive.

Participation in orientation reflexes

: alertness and attention reactions.

Contribution to memory formation

and learning dynamics (development of individual behavioral experience).

Regulation of biological rhythms

, particularly changes in sleep and wakefulness phases.

Involvement in maintaining homeostasis

by regulating autonomic functions.
Symptoms of the
Limbic System Dysfunction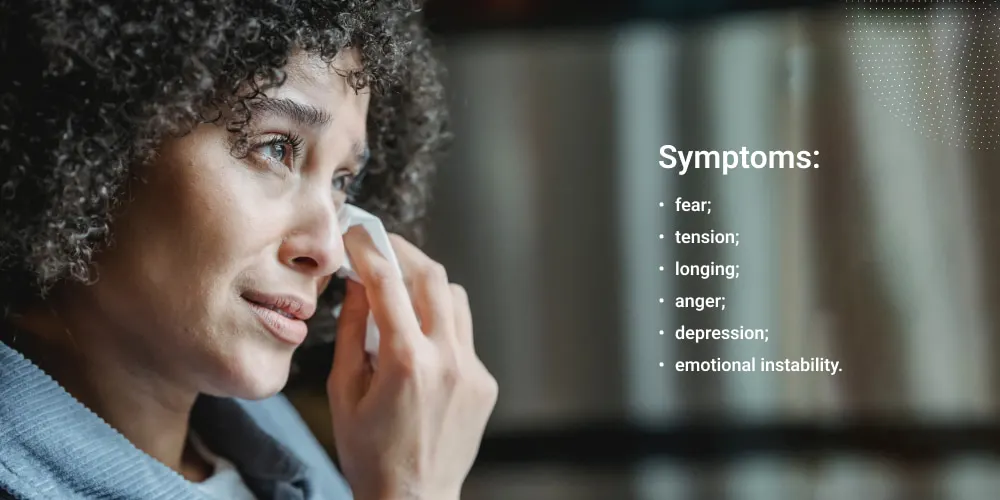 Damage to the limbic system often leads to disorders. As a rule, they occur in the emotional and motivational spheres. Thus, frequent symptoms are the appearance of constant feelings of:
fear;

tension;

longing;

anger;

depression;

emotional instability.
Seizures that result from an area of the temporal lobe in the limbic lobe usually last only a few minutes. The limbic lobe includes structures deep in the cerebral hemispheres. Also, it has some parts of the adjacent lobes, such as the temporal lobe. Limbic system damage symptoms are, thus, straightforward to recognize:
To begin with, people may be unable to control their senses or think clearly. 

They may perceive unpleasant smells that are not there (a type of hallucination). 

They may seem lethargic and not perceive their surroundings. 

People may make automatic movements such as repeatedly swallowing or smacking their lips. 

Sometimes, these epileptic seizures can cause personality changes, such as:
lack of a sense of humor;

excessive religiosity;

obsession. 
People may also have a very strong urge to write.
What Happens If the Limbic System is Damaged?
If the limbic system has damage, it can result in a range of problems. The most popular are neurological and psychological symptoms. The specific symptoms can vary depending on the extent and location of the damage. The cause of the damage also plays an important role.
The limbic system includes structures of the reticular formation of the midbrain. Thus, some authors suggest talking about the limbic-reticular complex (LRC). It is common that the limbic system damage symptoms lead to the development of vegetative dystonia:
disruption of connections between the reticular formation;

other components of the limbic system.
A prominent manifestation of autonomic dystonia is autonomic crises. They are sympathetic or parasympathetic and necessarily accompanied by emotional disturbances. The patient experiences fear of death, anxiety, and despair. That is why vegetative crises are often called panic attacks. Outside of crises, patients cannot adapt to the changing conditions of the environment. They poorly tolerate:
lack of sleep;

weather changes;

hot baths;

stuffy rooms;

long pauses in eating;

psycho-emotional stress;

prolonged standing. 
They often develop fainting spells. And women feel significantly worse during the premenstrual period.
Limbic System Therapy
There is no officially approved therapy program for such disorders today. The novelty of this direction has such effects here. Large medical institutes have not yet had time to conduct full-scale research due to them. But certain methods of health restoration in limbic system disorder are actively used.
In particular, it further describes such institutions as:
the Canadian Brain Injury Association

;

the Canadian Association for Counselling and Psychotherapy

;

the American Academy of Environmental Medicine

;

the Institute for Functional Medicine

.
All of them have paid special attention to this issue. 
According to their rankings, the most effective methods in limbic system therapy  are:
cognitive behavioral therapy;

neurolinguistic programming;

neurosomatic therapy;

gestalt therapy;

cognitive retention therapy;

brain stimulation exercises;

physical therapy (particularly massage, therapeutic exercise, and breathing exercises).

structural meditation;

dietary modification;

breathing practices, etc.
You may discover some of these methods to treat limbic system dysfunction  in more detail below.
Cognitive Behavioral Therapy
It is a form of psychotherapy that focuses on the relationship between a person's:
thoughts;

feelings;

behaviors. 
CBT helps individuals identify negative thoughts. These beliefs contribute to their emotional distress. It also replaces them with more positive and helpful ones.
Gestalt Therapy
The experiential form of psychotherapy as limbic system therapy that focuses on:
the present moment;

the individual's experience in the here and now. 
Gestalt therapy helps individuals gain insight into their thoughts and feelings. It also develops new ways of relating to themselves and others.
Neurolinguistic Programming (NLP)
NLP is a therapeutic approach that focuses on:
the language;

patterns of behavior that people use to create their experiences. 
NLP aims to help individuals change their behavior and language patterns. So, it helps achieve specific goals and overcome negative thoughts and emotions.
Neurosomatic Therapy
It is a manual therapy approach to treat:
chronic pain;

dysfunction by addressing the underlying muscular and skeletal imbalances contributing to the pain. 
This therapy for limbic system disorder combines techniques from various manual therapy modalities, including:
osteopathy;

chiropractic, and physical therapy.
Cognitive Retention Therapy (CRT)
Cognitive training program improves memory and cognitive function in individuals. It helps people with mild cognitive impairment or dementia. CRT involves exercises that challenge the individual's memory and cognitive skills, such as:
remembering lists of words;

solving puzzles.
Brain Stimulation Exercises
Activities that target the brain's neural circuits. Also, it helps to improve cognitive function and mental health. These exercises can include activities such as meditation, mindfulness, and cognitive training programs.
Dietary Modification
This limbic system therapy involves changing one's diet to improve health and reduce the risk of chronic diseases. This can include reducing the consumption of processed and high-fat foods. Doctors also recommend increasing the intake of fruits, vegetables, and lean protein.
Breathing Practices
Breathing practices can help individuals reduce stress and anxiety. You can reach it by activating the body's relaxation response.  Use the techniques such as:
deep breathing;

diaphragmatic breathing.
These practices can be incorporated into daily routines. 
Physical Therapy
The healthcare speciality focuses on preventing and treating physical impairment and disability. Physical therapists use techniques such as:
massage;

therapeutic exercise;

breathing exercises. 
As it improves mobility and physical function and reduces pain.
Bottom Line
Overall, limbic system dysfunction therapy is an integrative approach to psychotherapy. As it draws on various modalities to overall health and well-being. Professional neurologists will provide you with high-quality services. So do not hesitate to book an appointment for top-notch medical help.
FAQ
What symptoms are associated with a limbic system dysfunction?
A limbic system dysfunction can lead to anxiety, depression, mood swings, memory problems, emotional dysregulation, and difficulty with social interactions. Also it can also contribute to the development of mental health disorders such as post-traumatic stress disorder (PTSD).
What causes dysfunction in the limbic system?
A variety of factors, including traumatic brain injury, genetic mutations, infections, and neurodegenerative diseases, can cause dysfunction in the limbic system. It can also be triggered by chronic stress, substance abuse, and other environmental factors. 
How can I improve my limbic system?
The most win-win option is to break down large-scale ideas and plans into groups of easily achievable steps. If you make a schedule for the week and flawlessly complete all of its items, you can noticeably improve your self-esteem. 
Can Limbic System Dysfunction cause anxiety disorders?
Yes, Limbic System Dysfunction can cause anxiety disorders as it can affect the amygdala, which plays a key role in processing fear and anxiety.
How is Limbic System Dysfunction diagnosed?
Doctors typically diagnose it through clinical evaluation, brain imaging, and neuropsychological testing. The evaluation may involve a review of medical history and symptoms, while imaging techniques like MRI or CT scans can help identify any structural abnormalities in the brain.