Multiple sclerosis is a constantly progressive disease of the nervous system that can lead to disability. Inflammation, demyelination, and axonal degeneration are the main mechanisms that cause symptoms of multiple sclerosis. However, the exact cause of the disease is unknown. It is assumed to be an autoimmune condition with a multifactorial origin. In multiple sclerosis, the body triggers an autoimmune response against the myelin sheaths surrounding the nerve, disrupting the transmission of information between the brain and the rest of the body.
The course of the disease itself is very varied, but most patients have a remission-relapsing form – that is, there are periods of exacerbation and improvement. Symptomatic treatment and treatment influencing the natural course of the disease may slow down the development and reduce symptoms. In treating people suffering from it, it is essential to stop the progression of the disease, alleviate existing symptoms and keep the patient in the best physical and mental condition. Multiple sclerosis is a common neurological disease, usually diagnosed in people aged 20–40, more often in women than men. MS develops when the harmoniously connected components of the human immune system are out of balance. It is assumed that the basis of the disease is complex, and genetic, immunopathological, and environmental factors contribute to the development of the disease.
Multiple sclerosis
symptoms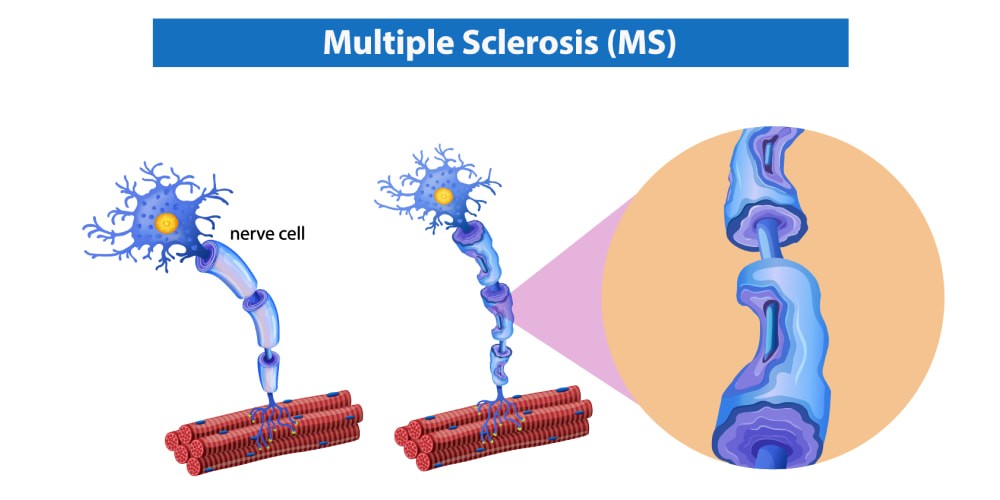 Multiple sclerosis (MS) can cause a variety of neurological symptoms. These include visual disturbances (double vision), bladder dysfunction, spastic paralysis of the limbs, fatigue, and disturbed motor skills. These symptoms often appear in several stages, which may be caused, for example, by physical or emotional stress or Invocations, and may vary in frequency.
Multiple sclerosis is classified into different types of disorders:
Relapsing-remitting MS predominates initially (around 85 to 90%): One or more neurological symptoms only occur for a short time, i.e., disappear (almost) entirely after a few days.

In about 30 to 40% of patients, the initially relapsing-remitting disease develops into more severe disorders over 10 to 15 years. In this case, it is referred to as a secondary, chronically progressive course of the disease.

In 10 to 15% of patients, the disease begins directly with the primary, chronically progressive form. In this course of the disease, the developing renal symptoms do not disappear. However, these are relatively rare cases. Mixed forms of the preliminary versions of the disease also exist.
As MS progresses, people may develop paresis in one or both of their legs or legs and arms. During the relapse, patients often complain of surface sensation disorders, impaired fluidity of movements, and deliberate limb tremors, i.e., during conscious movement with the arm or leg.
Common symptoms are nystagmus and eye movement disturbances, as well as balance problems and dizziness.
One of the symptoms of multiple sclerosis that occurs late is the inability to control the sphincters. As a result of this disorder, the MS patient urgently needs to urinate or defecate other related diseases.
Problems associated with cognitive decline are rare in the early stages of the disease; memory and mental disorders concern about 5% every year. In addition to difficulties with processing and analyzing information, they also struggle with memory and attention problems.
Multiple Sclerosis causes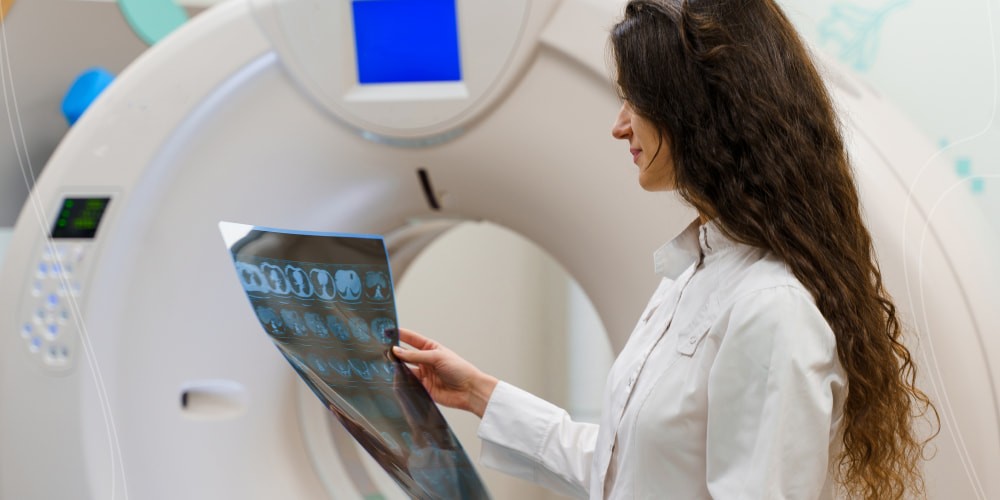 The brain and spinal cord make up the central nervous system (CNS). It is responsible for coordinating all motor functions and internal organic processes and integrating external and internal stimuli. It works according to the principle that the control center directs electrical impulses through the nerve fibers. The fibers are sheathed with an insulating layer.
This insulating layer consists mainly of myelin, a white oily substance. In people with multiple sclerosis, it is irreversibly damaged due to the immune system's defensive reaction. It means that individual pulses are slowed down or cannot be transferred at all.
The causes of multiple sclerosis have not yet been established. However, it has been found that specific immune cells, which are generally used by the body's immune system to respond to pathogen invasion, are incorrectly programmed for the disease. They fight the body's structures instead of foreign ones (i.e., myelin, myelin sheaths, and myelin-based proteins).
Numerous theses about the origin of multiple sclerosis have been discussed, and appropriate research has been conducted on this basis. Associations with genetic predisposition seem to exist, and the role of the Epstein-Barr virus and the herpes virus HHV-6 has also been extensively studied. On this basis, it can be assumed that some factors cause the diseases due to various studies. It was possible to identify several factors that may increase the risk of developing multiple sclerosis. These include:
female sex,

white race,

age between 20 and 40,

Epstein-Barr virus infection causing mononucleosis,

type I diabetes,

enteritis,

thyroid disease,

smoking tobacco,

vitamin D deficiency,

obesity in adolescence.
Multiple sclerosis
–
diagnosis
A neurologist has access to various diagnostic procedures to determine if a patient has developed MS. However, this is preceded by an accurate determination of the patient's personal story (interview).
If the story confirms the suspicion of MS, clinical trials provide additional information. The patient's motor skills, coordination, reflexes, vision, and strength are examined in detail; this allows you to determine to what extent neurological functions are damaged and what areas of the brain are affected. The conductivity of nerve fibers can also be determined by electrophysiological tests (checking the sensation in the extremities).
Magnetic resonance imaging (MRI) can be used to visualize an inflamed central nervous system. Another examination method is a lumbar puncture; the patient's spinal canal is then pierced between the two lumbar vertebrae so that the cerebrospinal fluid can be withdrawn.
MS can act differently. The most common types of multiple sclerosis are:
Relapsing-remitting

– the most common f

orm of multiple sclerosis

. It works because periods of exacerbation, called relapses, are intertwined with periods of remission, i.e., the disappearance of symptoms and improvement in fitness. There are daily relapses, but also those that last several weeks. During this period, the symptoms observed so far intensify, and new ones may also join them. After a flare-up, there is a period of remission that can last for many years. Over time, the symptoms may partially or entirely disappear.

Secondary Progressive

– initially a relapsing-remitting variant, nerve degeneration also progresses beyond relapses. The boundaries between the two forms of

multiple sclerosis

are not sharp. Usually, no remission occurs after relapses.

Primary Progressive

– a relatively rare form of MS. It occurs in 10-15% of patients, most often in people diagnosed after 40 years of age. It affects men and women equally. From the very beginning, there is a gradual build-up of disability, without any distinct relapses. It usually occurs in patients with multiple comorbidities that may affect the course of the disease and the treatment used.
How to Treat Multiple Sclerosis
?
Modern medicine, despite extensive research, does not have drugs that would restore patients who have multiple sclerosis to total health. Therefore, MS is an incurable disease. The diagnosis is not a sentence but a signal to mobilize. Treatment of multiple sclerosis is long-lasting and requires a concentration of strength and trust between the patient, doctor, therapist, consistency, and optimism. As the underlying cause of multiple sclerosis is unknown, current therapies focus on symptomatic treatment and the administration of disease-modifying medications.
Contrary to the previous assumptions, moderate exercise is recommended in almost all types of disorders. When MS patients suffer from spasticity, regular physical therapy (physiotherapy) and/or medical devices, such as orthotics, are recommended.
The administration of drugs that may supplement treatment with the drugs that inhibit multiple sclerosis progression are interferon beta preparations, mitoxantrone, natalizumab, glatiramer acetate, and fingolimod. During MS relapses, patients are administered (orally and intravenously) glucocorticoid preparations, such as dexamethasone, methylprednisolone, or prednisone.
People with MS need pain relief. Pain medications are commonly used. It is also essential to take vitamin preparations. Vitamin D, B12, and vitamin B9 play an indispensable role in the development of multiple sclerosis. Therefore, people with multiple sclerosis should take supplements containing vitamin D. Preparations containing vitamins K and E are beneficial too.
Among other things, physical condition, fitness, and detailed medical examinations are critical. Your doctor or orthopedic technician will also decide which solution is most appropriate. Patients with this disease do not live much shorter than healthy people – the differences in survival time, in this case, amount to several years.