Dyslexia occurs in people of all intelligence levels and from all walks of life. It is not related to a person's level of education or motivation to learn. Some common symptoms of dyslexia include difficulty with phonemic awareness, poor spelling skills, and difficulty with word decoding. Symptoms of dyslexia usually start showing up during childhood or early adolescence, but they can sometimes go unnoticed until adulthood.
The exact cause of dyslexia is unknown, but it is believed to be caused by a combination of genetic and environmental factors. There are various treatments for dyslexia, including tutoring, accommodations in the classroom, and medication therapy. Many resources are available to help people with dyslexia learn how to read and write effectively. With the right help, most people with dyslexia can lead successful lives.
What is Dyslexia?
Dyslexia is a neurological disorder that affects reading and writing skills. It can cause reading aloud, reading comprehension, and word recognition problems. Dyslexia is characterized by movement problems or poor hand and eye-coordination. It is the most common learning disability and can impact children and adults. 
Studies have shown that people with dyslexia symptoms often have difficulty processing phonemes. Phonemes are the smallest units of sound in a language. For example, the word "cat" is made up of three phonemes: /k/, /æ/, and /t/. People with dyslexia often have trouble distinguishing between similar-sounding phonemes. This difficulty leads to problems with reading, spelling, and pronunciation.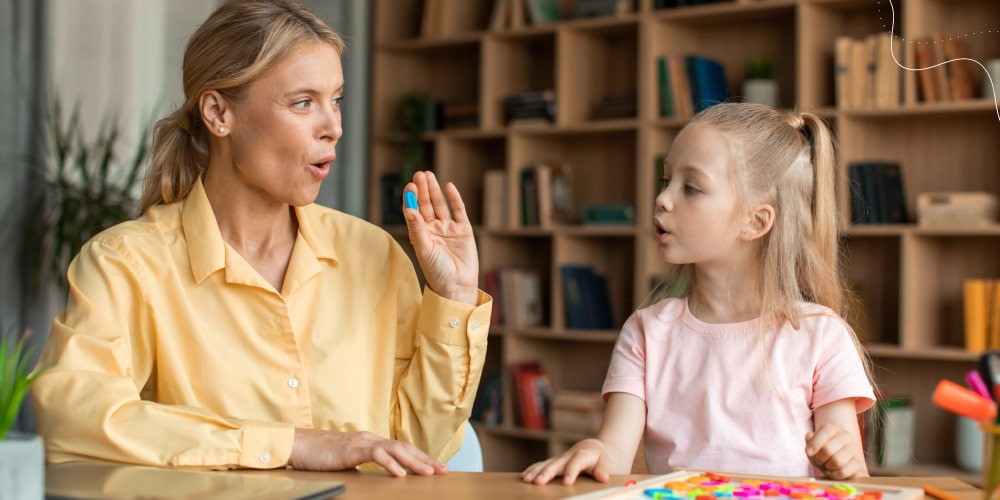 What are dyslexia statistics? Dyslexia occurs in approximately 5 to 17 percent of the population. It is four times more common in boys than girls. Most people are not formally diagnosed until they reach school age. Early diagnosis and intervention are important for people with dyslexia. Most people with dyslexia can learn to read and write effectively with proper support.
What are the Signs and
Symptoms of Dyslexia
The symptoms of dyslexia can also vary depending on a person's age. Children with dyslexia may have difficulty learning to read and write. They may also have trouble with spelling, pronunciation, and math. Adults with dyslexia often struggle with reading comprehension, writing, and pronouncing words. They may also have trouble with time management and organization.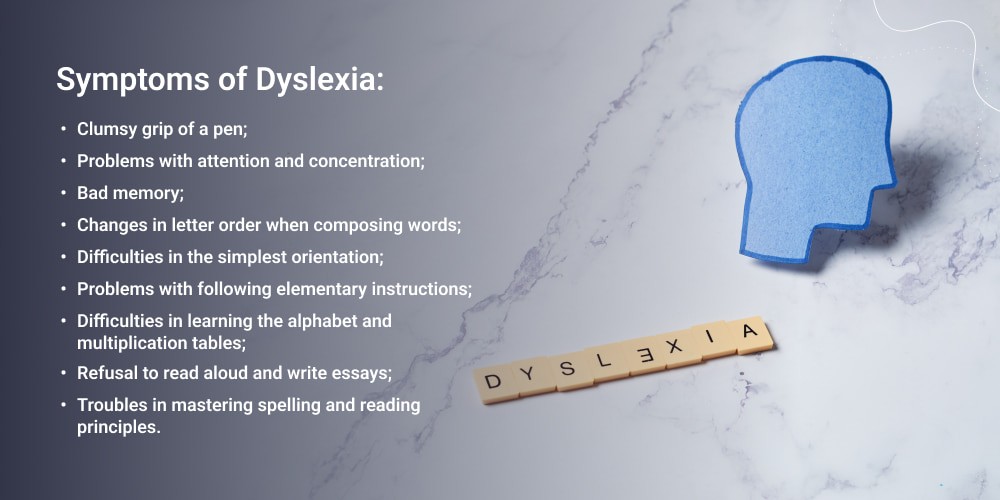 The symptoms can vary from mild to severe. Some people with dyslexia only have minor difficulties, while others have significant challenges that interfere with everyday life. The first symptoms of dyslexia (regardless of age) are significant because they indicate that the development of the deviation has started. So, what does dyslexia look like? If you notice five or more of these signs, we recommend that you do not delay consulting a specialist:
Clumsy grip of a pen (or other writing instruments);

Problems with attention and concentration;

Bad memory;

Changes in letter order when composing words;

Difficulties in the simplest orientation (left-right, upward, and downward, etc.);

Problems with following elementary instructions;

Difficulties in learning the alphabet and multiplication tables;

Refusal to read aloud and write essays;

Troubles in mastering spelling and reading principles.
Types of Dyslexia
There are three main types of dyslexia: phonological, surface, and rapid automatized naming. Phonological dyslexia impacts an individual's ability to break down words into smaller units of sound (phonemes). Surface dyslexia occurs when an individual has difficulty recognizing visually similar words (e.g., "bat" and "cat"). Rapid automatized naming dyslexia refers to difficulty recalling the correct order of letters or numbers when presented in rapid succession.
Phonological Type 
This type of dyslexia is characterized by difficulties with phonemic awareness and phonology. It can impact reading, spelling, and speaking skills. Individuals with phonological dyslexia have difficulty understanding the relationship between letters and sounds and often have a problem breaking words down into individual sounds or phonemes. Other challenges may include difficulty with rhyming words, associating letters with the correct sounds, and correctly pronouncing words. As a result, they may have trouble reading words that are not familiar to them. Phonological dyslexia is the most common type of dyslexia. It is estimated to account for 55-65% of all cases of dyslexia.
Surface Type 
Surface dyslexia is a type in which individuals struggle with phonetic decoding skills. This means they have trouble mapping letters to sounds and often confuse similar-sounding words. This type of dyslexia can sometimes be remediated with intensive phonetic training. These difficulties can lead to problems with reading fluency and comprehension.
Rapid Automatized Naming Type
Individuals with RAN have difficulty naming objects quickly and accurately. This can make it hard to read aloud or follow a conversation. RAN is often diagnosed in early childhood, as children with this type of dyslexia may have trouble learning the alphabet or being able to read quickly. However, adults experience difficulty with reading comprehension or speed. 
What are the Causes of Dyslexia?
Dyslexia can be caused by various things:
Genetic predisposition: If you have a family member with dyslexia, you may be more likely to develop this condition.

Brain structure or a

head injury

: Differences in how the brain is structured or functions may contribute to dyslexia.

Severe infections such as meningitis.

Labor disorders: Premature placenta detachment or fetal asphyxia.

Complications during pregnancy associated with infections (measles, herpes, rubella) or the use of toxic substances (drugs, alcohol, smoking).

Environmental factors: Exposure to certain environmental factors (such as lead exposure) may increase the risk of developing dyslexia.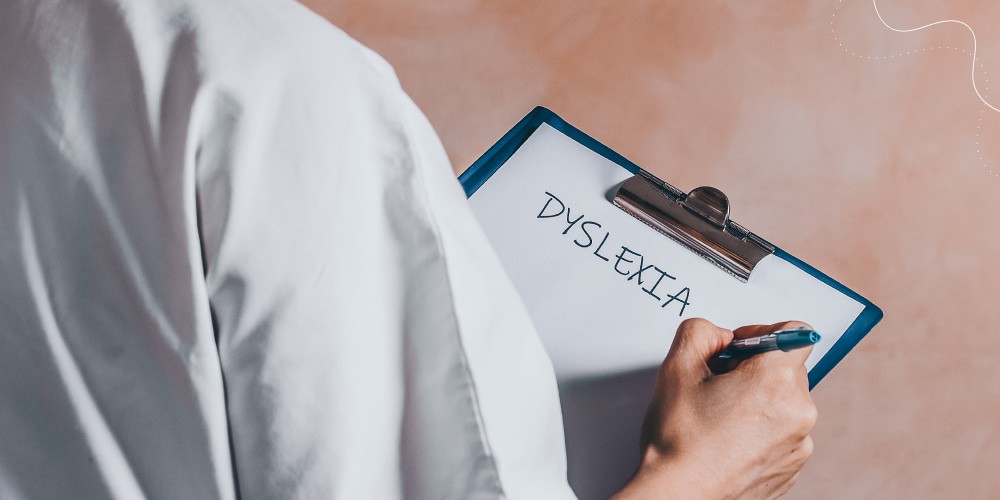 Additionally, some research suggests that dyslexia may be associated with brain structure or function changes. Neuroimaging techniques such as MRI are the most popular methods for investigating dyslexia type. With their help of them, scientists were able to prove that deviations cause neurobiological causes. In people with dyslexia, the area of the posterior part of the left middle temporal gyrus is less active. 
Social factors are considered no less vital. For example, excessive teaching loads, pedagogical neglect, a dysfunctional environment, or a lack of communication are aspects that cause dyslexia and exacerbate a person's condition.
Make an Appointment at Lone Star Neurology Doctors to Avoid Complications
Early diagnosis and treatment are essential to minimize the potentially devastating effects of the condition. If left untreated, dyslexia can significantly impact every aspect of an individual's life. One of the most significant dangers is that individuals are at a much higher risk for academic failure. In addition to educational difficulties, people are susceptible to developing mental health problems. It can also lead to social isolation, as individuals with this disorder may have difficulty making and maintaining friendships. Finally, it can also cause problems in the workplace, as individuals with the condition, may have trouble keeping up with the demands of their job.
If you think you or your child may have dyslexia symptoms, getting diagnosed and treated as soon as possible is significant. Our Lone Star Neurology specialists can help create a treatment plan that works for you.
FAQs 
What deficiency causes dyslexia?
Some of the most common causes of dyslexia include problems with phonemic awareness, phonology, and word decoding skills. Additionally, dyslexia can also be caused by deficits in some regions of the brain that are responsible for language processing.
What is the most severe form of dyslexia?
Double deficit dyslexia is the most severe form of dyslexia. The symptoms include trouble naming words quickly when asked to recall them and phonological awareness issues.
What is a person with dyslexia good at?
People with dyslexia are often good at creative endeavors, such as industrial and graphic design, painting, and sculpting. While dyslexia can make traditional school subjects such as reading and spelling difficult, people with dyslexia often have above-average intelligence and can learn to compensate for their weaknesses.
At what age can you spot dyslexia?
Dyslexia is generally thought to be a lifelong condition. Different people may exhibit different signs and symptoms of dyslexia at different ages.