Wolff-Parkinson-White syndrome is a violation of the process of excitation of the ventricles, in which there is an increase in the heart rate.
Normally, the pulse wave travels from the atria to the ventricles through the atrioventricular node and the bundle of His. With this pathology, secondary conduction pathways are formed, called the Kent beam, which is characterized by different electrophysiological properties and therefore conducts excitation faster. In this case, the wave of depolarization propagates in different directions from the atria to the ventricles and is called a delta wave. As a result, premature excitation and contraction of the ventricles occur. One of the signs of this syndrome is the manifestation of paroxysmal tachycardia, atrial fibrillation (flutter), supraventricular extrasystole.
Diseases in which WPW occurs:
hypertrophic cardiomyopathy;

supraventricular tachycardia;

congenital heart defects – atrial septal defect, tetralogy of Fallot, mitral valve prolapse, Ebstein's anomaly;

atrial flutter;

connective tissue dysplasia syndrome;

and atrial fibrillation. 
These diseases disrupt the normal structure of the heart and the proper functioning of the conducting system. And tachyarrhythmias provoke a decrease in myocardial contractility and expansion of the atria and ventricles.
At the same time, 70% of people who have a Kent bundle in the cardiac conduction system do not have symptoms of cardiac diseases. Premature ventricular contraction syndrome most often occurs if you have another organic heart disease.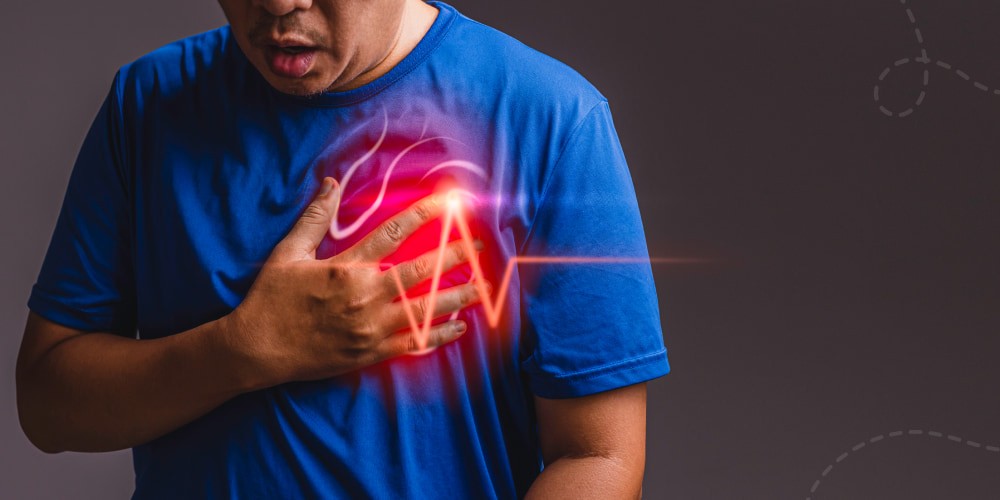 Symptoms and Diagnosis of Wolff-Parkinson-White (WPW) Syndrome
Symptoms of Wolff-Parkinson-White (WPW) syndrome:
a sudden attack of palpitations;

interruptions in the work of the heart;

throbbing in the head or throat;

general weakness, dizziness, decreased exercise tolerance, and increased fatigue during an attack;

loss of consciousness is possible;

dyspnea;

against the background of an attack, dizziness or loss of consciousness may develop;

decrease in blood pressure (arterial hypotension or unstable blood pressure).
Diagnosis of the Wolff-Parkinson-White (WPW) Syndrome
In the majority of cases, it can proceed latently and not be detected on the ECG if a person maintains a normal sinus rhythm.
WPW can be diagnosed at any age during Doppler echocardiography (EchoCG) – an ultrasound examination of the heart.
This method allows you to visualize structural and functional changes in the myocardium. 

Only echocardiography can provide complete information about the nature of

arrhythmia

and its effect on cardiac function. 

Ultrasound of the heart allows you to see both morphological and functional disorders and identify congenital defects and deformities. 

With this method, it is possible to assess the speed, direction, and nature of blood flow and predict the development of myocardial ischemia.

EchoCG with color Doppler is non-invasive and does not use ionizing radiation, plus it has no harmful effects. 

It provides the most comprehensive information about the structure and function of the heart.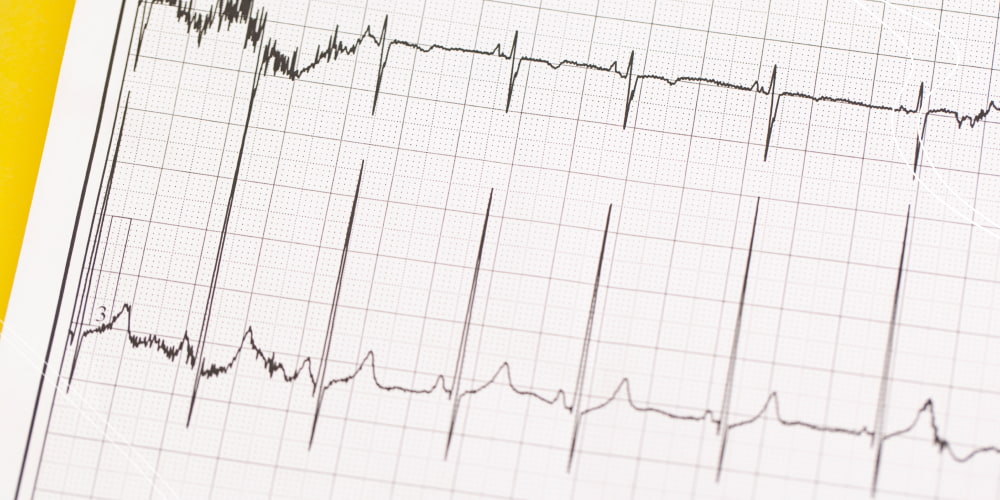 Causes and Classification of Wolff-Parkinson-White Syndrome
Possible and predisposing causes:
congenital valvular defects (mitral valve prolapse, tricuspid valve prolapse, accessory chords, open foramen ovale);

hereditary predisposition;

systemic connective tissue disorders (Marfan syndrome, Ehlers-Danlos syndrome).
The main types of this syndrome are:
Manifest WPW syndrome is established in patients with delta wave ECG and tachyarrhythmias. The most common arrhythmia among patients with WPW syndrome

 is atrioventricular reciprocal tachycardia (AVRT). The term "reciprocal" is synonymous with the term "re-entry" – the mechanism of tachycardia.

Latent WPW syndrome is established if, with sinus rhythm, the patient has no signs of ventricular pre-excitation (the PQ interval is normal, there are no signs of a delta-wave), but tachycardia is observed (AVRT with retrograde conduction along the VVP).
Multiple WPW syndrome is established if 2 or more DPWDs are verified that are involved in maintaining re-entry in AVRT.
Intermittent WPW syndrome is characterized by transient signs of ventricular preexcitation against the background of sinus rhythm and verified AVRT.
WPW phenomenon. Despite the presence of a delta wave on the ECG, some patients may have no

arrhythmia

. In this case, the WPW phenomenon is diagnosed (not WPW syndrome).
Only one-third of asymptomatic patients under the age of 40 who have ventricular preexcitation syndrome (delta wave) on the ECG eventually develop signs of arrhythmia. At the same time, none of the patients with ventricular preexcitation syndrome, first diagnosed after the age of 40, developed arrhythmia.
Most asymptomatic patients have a good prognosis; cardiac arrest is rarely the first manifestation of the disease. The need for endo-EPI and RFA in this group of patients is controversial.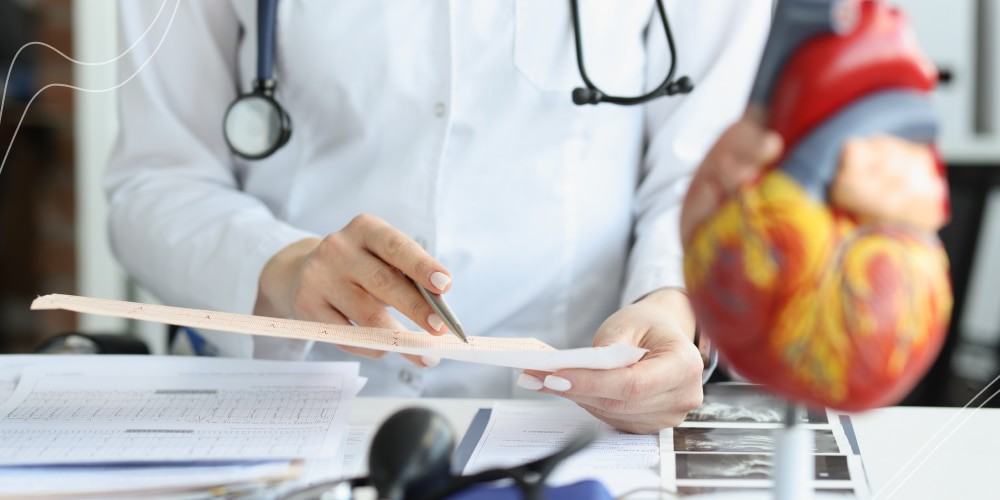 Treatment of Wolff-Parkinson-White syndrome
Initial care for an episode of orthodromic AVRT consists of vagal techniques:
Vagus tests: Valsalva test (straining at the height of inspiration), massage of the carotid sinus (unilateral pressure in the area of ​​the carotid triangle for no more than 10 s), cough and vomiting reflexes, and putting ice pieces on the face. The effectiveness of vagal tests with supraventricular tachycardia reaches 50%.
If a patient has

Wolff-Parkinson-White (WPW)

syndrome, the physician may choose not to use adenosine because it can induce AF; you can use propafenone or procainamide instead.
Alternatively, external electrical cardioversion can be performed immediately. With hemodynamically significant symptoms against the background of AVRT (syncope, presyncope, angina pectoris, hypotension, increased signs of cardiac insufficiency), immediate external electrical cardioversion (100 J) is indicated. If there are no associated risk factors for systemic embolization, electrical cardioversion does not require anticoagulation.
In patients with tachycardia with WPW syndrome, drugs acting on the AV node should not be used. The use of β-blockers, calcium channel blockers, and cardiac glycosides is contraindicated because they slow down the conduction along the AVU and do not affect the conduction of the anterograde along the DPZH or even intensify it. It is dangerous to the transformation of AVRT into ventricular tachycardia and/or VF.
Catheter ablation (Radiofrequency Ablation or RFA) for treatment of Wolff-Parkinson-White syndrome
In the majority of cases, the primary efficacy of catheter ablation of the RPV was approximately 95%. The efficiency of catheter ablation of the VVD located in the lateral wall of the left ventricle is slightly higher than that of catheter ablation of additional pathways of other localization. Recurrences of conduction along the RPVS occur in approximately 5% of cases, which is associated with a decrease in edema and inflammatory changes caused by the damaging effect of RF energy. Repeated RFA usually eliminates the conduction of the VAD.
Complications during endo-EPI and RFA of additional pathways can be divided into 4 groups:
Complications due to radiation exposure.

Complications associated with a puncture and vascular catheterization (hematoma, deep vein thrombosis, arterial perforation, arteriovenous fistula, and pneumothorax).

Complications during catheter manipulations (damage to heart valves(

heart disease

), microembolism, perforation of the coronary sinus or myocardial wall, dissection of coronary arteries, and thrombosis).

Complications caused by RF exposure (arterioventricular block, myocardial perforation, spasm or occlusion of the coronary arteries, transient cerebrovascular accident, and cerebrovascular complications).
Mortality associated with the ablation procedure for accessory pathways does not exceed 0.2%.
Complete AV block and cardiac tamponade are serious complications. The incidence of irreversible complete AV blocks ranges from 0.17% to 1.0%. The frequency of cardiac tamponade varies from 0.13% to 1.1%.

Prognosis, risks, and preventions of Wolff-Parkinson-White (WPW) Syndrome
Prognosis of Patients with WPW Syndrome
In only 1% of cases, WPW syndrome can lead to life-threatening ventricular fibrillation. 
If there is a risk, surgical treatment is recommended – intracardiac radiofrequency ablation. 

But not all patients need it. For most people,

Wolff-Parkinson-White syndrome

has a comforting prognosis and is mild. 

They take antiarrhythmic drugs as prescribed by a doctor for the prevention and relief of tachycardia paroxysms.
The Risks of WPW Syndrome
The main consequences are:
The WPW syndrome, manifested by attacks of tachycardia, reduces the patient's quality of life. 

Loss of consciousness during paroxysms can lead to serious injuries and accidents.

Reciprocal AV tachycardias in WPW syndrome are classified as pre-fibrillatory arrhythmias. 

Frequent attacks of the disease can lead to more dangerous and complex atrial fibrillation, which can transform into ventricular fibrillation and lead to death.
Prevention of Wolff-Parkinson-White (WPW) Syndrome
There is no specific prevention of the disease. If an ECG reveals WPW syndrome in a patient, they should be regularly examined by a cardiologist (even if they are not worried about the symptoms). If signs of pathology appear, you need to choose the right treatment immediately.
Persons who are related to a patient with WPW syndrome are advised to undergo a routine examination to exclude the development of this pathology. Diagnostics should include daily monitoring of the electrocardiogram, electrocardiogram, and electrophysiological methods.
FAQs
What kind of disease causes the attack of heartbeat, the interruptions in the work of the heart and throbbing in the head or throat?
Wolff-Parkinson-White syndrome is a violation of the process of excitation of the ventricles, in which there is an increase in the heart rate.
Is it possible to do surgery for arrhythmias?
An operation for the treatment of cardiac arrhythmias (atrial fibrillation and other forms) is prescribed exclusively by a doctor and only after the necessary examination has been carried out. This makes the procedure not only effective but also safe for the patient.
What is Wolff-Parkinson-White transient syndrome?
Intermittent WPW syndrome is characterized by transient signs of ventricular preexcitation against the background of sinus rhythm and verified AVRT. WPW phenomenon. Despite the presence of a delta wave on the ECG, some patients may have no arrhythmia. In this case, the WPW phenomenon is diagnosed (not WPW syndrome).
How to stop an arrhythmia attack?
Paroxysms of atrial reciprocal tachycardia, verapamil, beta-blockers, amiodarone or digoxin, and EIT can be used to stop attacks and slow down the heart rate. Automatic and chaotic atrial tachycardias often require not an emergency but planned therapy.
How to take Cordarone during an arrhythmia attack?
In the treatment of ventricular arrhythmias, the initial saturating dose of Cordarone should be 800-1600 mg/day (more often separately) for 2-3 weeks. Then the dose can be reduced to 400-600 mg/day. Such a treatment regimen most often ensures the achievement of a stable concentration of the drug in this category of patients.
Can you do sports with the Wolff-Parkinson-White syndrome phenomenon?
If athletes have WPW syndrome, an in-depth clinical and physiological examination is necessary. If at the same time, abnormalities from the cardiovascular system are not detected, then WPW syndrome is not a reason for prohibiting sports.
How does Wolff-Parkinson-White syndrome differ from a phenomenon?
The difference is that the patient learns about the existing WPW phenomenon only from the words of the doctor, who discovers characteristic signs on the ECG. They never feel any changes associated with the peculiarity of their heart. In turn, WPW syndrome provokes an arrhythmia attack in the patient.