Magnetic resonance imaging (MRI) has become an invaluable tool in modern medical diagnostics. It illuminates the complex processes of the human brain. As we decipher the mysteries hidden within the skull, we delve into MRI images of the brain, both with and without contrast enhancement. 
MRI with contrast is a modern, highly informative diagnostic method. The basis of the MRI method is non-radiation technology. Therefore, MRI is safe and can be performed even on children. The main difference between contrast-enhanced MRIs is the intravenous injection of a contrast agent. This allows you to get a clear picture of what the head MRI shows – a tumor with an indication of the size, structure, and boundaries of metastases of the neoplasm.
MRI without contrast also helps to determine the presence and extent of disease progression. However, in the study of soft tissues and internal organs, the analysis of these structures without contrast is usually uninformative.
We will consider the main features of MRI  brain with and without contrast and in which conditions it is better to use them.
Contrast in MRI
MRI contrast refers to using contrast agents to enhance the visibility of specific tissues or structures. MRI is a powerful diagnostic tool. It uses strong magnetic fields and radio waves to create detailed images of the body's internal systems. However, not all tissues and abnormalities in the body have the same inherent contrast. This sometimes makes them difficult to distinguish on standard MRI images.
To overcome this limitation, MRI contrast techniques are used. There are two types of contrast in MRI:
T1-weighted contrast.

T1-weighted images highlight differences in tissue relaxation times. In these images, different fabrics appear with varying shades of gray. By injecting a contrast agent, specific tissues can be highlighted more clearly.

T2-weighted contrast.

T2-weighted images also emphasize the difference in tissue relaxation time. But they assign different contrast properties compared to T1-weighted. On T2-weighted embodiments, fluid and specific pathologies appear bright. Normal tissue appears darker.
Although contrast-enhanced MRI can provide valuable diagnostic information, its use is carefully considered because of potential risks. Healthcare providers weigh the benefits and risks when deciding whether to use contrast in MRI studies.
MRI Brain Without Contrast
Brain MRI without contrast is also a valuable diagnostic tool. It provides essential information about brain structure and potential abnormalities without contrast agents. This imaging technique is beneficial when there is concern about the patient's renal function. It is also suitable for people with allergies to contrast agents. It is also a great solution where the doctor can get the information they need for an MRI brain without contrast enhancement.
Non-contrast MRI of the brain is a powerful diagnostic tool. However, there are situations when it is better to do an MRI with contrast enhancement. This is especially important when evaluating certain brain tumors and vascular lesions. Healthcare providers choose between contrast-enhanced and non-enhanced MRI based on specific clinical questions. The individual circumstances of the patient are also necessary.
What does a brain MRI without contrast show?
Here's what a non-contrast MRI of the brain can reveal:
Anatomy of the brain.

The study provides detailed images of brain anatomy. They include the brain, cerebellum, brainstem, and other structures. This allows clinicians to assess overall size, shape, and symmetry.

Abnormalities and lesions.

The study is highly effective for detecting various abnormalities and lesions of the brain. Among them are tumors, cysts, abscesses, and areas of abnormal tissue growth. They can be visualized as areas of altered signal intensity on images.

Hemorrhages.

This type of MRI is sensitive to bleeding in the brain. It can detect intracranial hemorrhages. These results are crucial for the diagnosis of strokes.

Inflammation and infection.

Doctors determine brain infections and inflammatory conditions by MRI brain without contrast. These conditions can lead to characteristic changes in brain tissue.

Changes in white matter.

This MRI helps assess white matter changes. They may indicate multiple sclerosis, leukodystrophies, or diseases of small vessels.

Ventricles and cerebrospinal fluid (CSF).

Non-contrast MRI can also assess the size and shape of the ventricles and the distribution of cerebrospinal fluid. Abnormalities in these areas may indicate hydrocephalus or obstructive lesions.

Abnormalities of blood vessels.

A non-contrast MRI can visualize the blood vessels in the brain. This helps identify aneurysms, arteriovenous malformations (AVMs), or vessel stenosis.
Thus, non-contrast MRI of the brain is a valuable imaging modality. It can detect a wide range of diseases related to the brain. This makes it an essential tool for diagnosing and monitoring neurological disorders.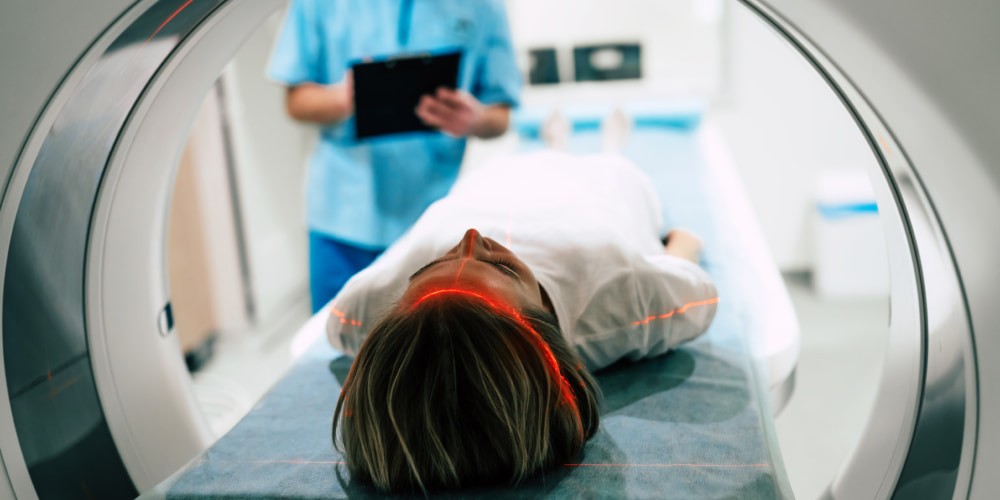 Brain MRI With Contrast
Contrast-enhanced brain MRI is an imaging procedure that uses a contrast agent. Typically, medical professionals administer a substance containing gadolinium intravenously in a brain MRI. This substance improves the visibility of specific brain structures or abnormalities. It changes the magnetic properties of surrounding tissues. Thanks to it, individual areas of interest stand out more clearly.
Here are the highlights of a brain MRI with contrast:
Contrast agent.

These products are safe for most people and have a relatively low risk of allergic reactions.

Improvement of diagnostics.

The primary purpose of such an MRI is to improve the visibility of specific brain structures. This includes the selection of blood vessels, tumors, and areas of inflammation.

T1-weighted images. In these images, tissues with an increased contrast agent concentration appear brighter. This provides an excellent contrast between different structures.
Improved visualization of blood vessels.

Contrast-enhanced MRI is beneficial for imaging the vasculature of the brain.

Tumor detection. Tumors usually have altered blood supply and increased permeability. Thanks to this, they stand out noticeably in contrasting images.
Inflammation and infection. Contrast-enhanced MRI can help identify areas of inflammation. This is crucial for diagnosing encephalitis or brain abscess.
Treatment monitoring. Such an MRI is valuable for monitoring the treatment progress for brain diseases. This can help assess the effectiveness of, for example, chemotherapy or radiation therapy.
Contrast-enhanced MRI of the brain is an essential neuroimaging tool. It improves the clarity of specific brain structures and pathologies, helping diagnose accurately.
Comparing MRI Brain With and Without Contrast
Here's a simple table comparing MRI brain imaging with and without contrast:
| | | |
| --- | --- | --- |
| Aspect | Brain MRI With Contrast | MRI Brain Without Contrast |
| Use of Contrast Agent | Yes | No |
| Enhanced Image Clarity | High | Moderate |
| Visibility of Blood Vessels | Excellent | Limited |
| Tumor Detection | Excellent | Good |
| Identification of Lesions | Excellent | Good |
| Evaluation of Inflammation | Excellent | Moderate |
| Assessment of Blood-Brain Barrier | Excellent | Limited |
| Safety Considerations | Kidney function and allergies to contrast agents must be considered | Suitable for individuals with allergies or kidney concerns |
When imaging the brain with contrast, the healthcare provider injects a contrast agent into the patient. As a rule, a substance based on gadolinium. It circulates in the bloodstream and accumulates in areas with increased blood flow or in areas of interest in the brain.
A contrast-free image does not involve the use of any substances. It relies solely on the intrinsic magnetic properties of brain tissue for imaging.
Contrast-enhanced MRI is generally more precise and more accurate. It is better suited for many studies. But next to that, we cannot say that ordinary MRI is ineffective. Such diagnostics are effective and show various pathologies even without adding additional substances.  
Additionally, healthcare providers cannot examine all patients with contrast. Patients with kidney diseases and those with allergies should be cautious.
The choice between MRI  brain with and without contrast depends on the diagnostic questions. Medical professionals should answer these questions. Both techniques have advantages and limitations.  Healthcare professionals make the decision to optimize diagnostic accuracy while ensuring patient safety.
Conclusion
MRI brain with and without contrast is pivotal in modern medicine. It provides invaluable insights into the intricacies of the human brain. The choice between contrast and non-contrast imaging depends on the clinical context.
MRI with contrast enhances image clarity, making it indispensable for visualizing vascular structures. It aids in diagnosing and characterizing a wide range of neurological conditions. However, using contrast agents requires careful assessment of patient factors.
Conversely, non-contrast MRI is a reliable method for routine brain imaging. It helps detect many abnormalities without the need for contrast agents. It offers a safe alternative for patients with contraindications to contrast.
Ultimately, the choice between contrast-enhanced and non-enhanced MRI is a strategic one. Contact Lone Star Neurology; we will help you determine effective diagnostic methods.
FAQ
Can MRI without contrast detect brain tumor?
Yes, MRI without contrast can detect brain tumors. However, healthcare providers often use contrast-enhanced MRI for better visualization and characterization.
How is a brain MRI with contrast different from one without contrast?
A contrast-enhanced MRI of the brain uses a contrast agent to enhance the visibility of specific structures. This makes it better for detecting tumors and vascular problems. Without contrast, this is useful for regular visualizations.
What are the risks associated with contrast in MRI?
Risks associated with MRI contrast include allergic reactions and kidney problems. A rare condition called nephrogenic systemic fibrosis (NSF) is also possible in patients. However, healthcare providers use contrast when determining whether the benefits outweigh the risks.