Millions of people around the world suffer from chronic neck pain. Therefore, the search for effective treatment options is still ongoing. People turned their attention to one unexpected solution. Namely, many people have turned their attention to neck Botox.
Let's be honest; many people associate Botox with cosmetic procedures. But in recent years, doctors have also used Botox for therapeutic purposes. This innovative approach aims to alleviate persistent discomfort and limited mobility. Botox acts on underlying muscle tension and spasms. It is these that contribute to the development of this condition.
In this article, we will dive into the world of Botox injections for neck pain. We'll explore its effectiveness, benefits, and potential considerations as a treatment option. Join us on this journey. We'll uncover the fascinating possibilities and challenges of Botox for neck pain.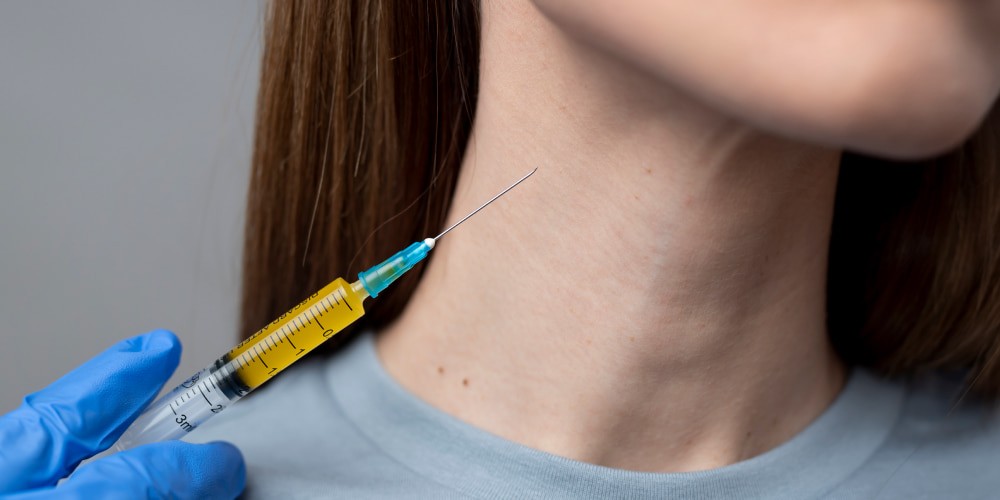 What Are Botox Injections?
People have long associated Botox injections with wanting to maintain a youthful appearance. And more often than not, you may have heard about its use in cosmetic procedures. However, the potential of Botox goes far beyond the realm of beauty enhancement.
Botox is a neurotoxic protein. When administered in controlled amounts, it can effectively treat various medical conditions. Botox in the neck is quite useful for improving mobility and alleviating pain.
Injection involves carefully injecting the purified toxin into certain muscles. Botox blocks the release of acetylcholine, the neurotransmitter responsible for muscle contractions. Therefore, botox neck injections cause temporary muscle paralysis. This local relaxation of the muscles can relieve pain and reduce spasms. But most importantly, you will improve the overall mobility of your neck.
Next, we will delve into the area of neck Botox. We'll explore their effectiveness, mechanism of action, and supporting clinical trial data. Join us. We will uncover the potential benefits of this intriguing treatment option.
The Effectiveness of Botox Injections for Neck Pain
The effectiveness of Botox in the neck has received considerable attention. Botox injections target underlying muscle tension and spasms. These contribute to neck pain. Botox, on the other hand, provides localized relief and improved functionality.
These injections greatly reduce the intensity of the pain. They relieve muscle spasms and improve neck mobility. The temporary paralysis that Botox causes effectively relaxes the targeted muscles. It will bring you relief and restore your normal range of motion.
The duration of the effect varies from person to person. But many experience sustained pain relief for several months. This lasting relief allows patients to regain their ability to function. You will be able to engage in daily activities without constant neck pain.
Although further research is needed to understand the long-term effectiveness of Botox neck injections fully, existing evidence suggests that this procedure has great promise as an effective treatment for those who suffer from chronic neck pain.
The Mechanism of Action
The mechanism of Botox injections lies in the properties of botulinum toxin. It is the main component of Botox. When injected into certain muscles in the neck, it blocks the release of muscle contractions.
Botulinum toxin affects the nerve endings. It inhibits the release of acetylcholine and effectively paralyzes the treated muscles. The neck Botox causes temporary paralysis of the muscles. It is how it reduces excessive muscle contractions and spasms.
This local relaxation of the muscles not only alleviates pain. It also improves the overall mobility of the neck. Reducing muscle tension allows for smoother movement. You will relieve the strain on the surrounding tissues and structures.
The effect of Botox on the neck is usually evident after a few days. But it usually lasts for several months. Over time, the effect of the toxin gradually wears off. Then the muscle activity gradually returns to normal. The temporary nature of the treatment allows the dosage to be adjusted. Doctors usually look at the individual response and the body's needs.
Clinical Studies and Evidence
Studies have played a crucial role in establishing the effectiveness of neck Botox. Doctors conducted multiple studies. They wanted to evaluate the effectiveness of the treatment. They want to gather evidence to support the practice.
Several randomized controlled trials (RCTs) showed positive results. These studies consistently reported a reduction in pain intensity. Patients received improved neck functionality and improved quality of life. The findings suggest Botox injections for neck pain are a valuable therapeutic modality.
It is important to note that further research is still ongoing. Nevertheless, already existing clinical studies prove a solid foundation. Therefore, consider Botox as a potential treatment option.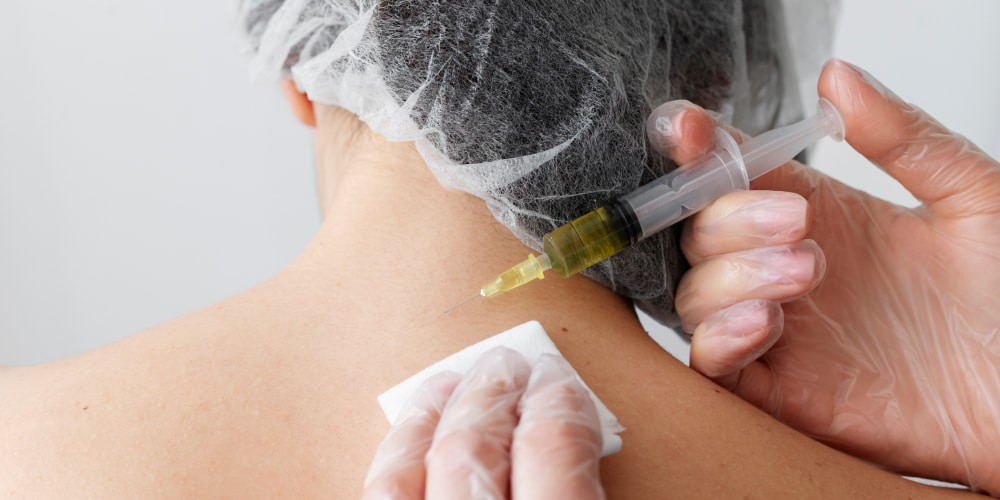 The Benefits of
Botox Injections
for
Neck
Pain
Botox neck injections offer several benefits. So if you are looking for relief from this debilitating condition, we recommend you look. Some key benefits include:
Pain reduction

. Botox injections target the specific muscles that are responsible for the pain. Patients often notice a significant reduction in pain intensity. It allows them to improve their quality of life.

Relaxation of the muscles

.

Botox in the neck

causes temporary paralysis of the targeted muscles. This relaxation alleviates muscle stiffness. Therefore, you will have improved overall mobility in your neck.

Improved functionality

. By reducing pain, people can regain the functionality of their necks. You will be able to perform daily activities with greater ease.

Non-surgical approach

. Botox injections offer a non-surgical alternative for neck pain relief. It makes it a less risky and more comfortable option.

Long-term relief

. The effects of Botox injections can last for several months. This duration allows people to experience long periods of improvement.
Overall, the benefits of botox injections for neck pain cannot be overstated. It is a promising method of treatment that offers patients the possibility of significant improvement.
Potential Risks and Side Effects
While botox injections for neck pain are generally considered safe and well-tolerated, like any medical procedure, they carry potential risks and side effects. Some of the possible risks and side effects include:
Injection site reactions

. Common side effects include temporary redness, swelling, or bruising at the injection site. These reactions are usually mild and resolve on their own.

Muscle weakness

.

Botox neck injections

can cause temporary weakness in the injected muscles. It can result in difficulties with certain movements or activities.

Headaches

. Some individuals may experience headaches as a side effect of Botox injections. These headaches are typically mild and transient.

Allergic reactions

. Although rare, some people may have an allergic reaction to Botox. Symptoms may include itching, rash, dizziness, or difficulty breathing. Immediate medical attention is necessary if an allergic reaction occurs.

Spread of toxins

. In rare cases of

Botox in the neck

, you may get botulinum toxin spread beyond the injection site. It can cause muscle weakness and other side effects in places not intended. This risk can be minimized by choosing an experienced professional.
Discussing all potential risks and side effects with a qualified healthcare provider is important. Only then can you resort to botox injections for neck pain. The doctor can provide individualized information based on your medical history. They can help you make an informed decision.
Conclusion
In conclusion, Botox injections have become a promising treatment option. Clinical studies and evidence support their effectiveness in reducing the intensity of pain. They help relieve muscle spasms and improve neck mobility.
If you are considering neck Botox, it is important to consult with a qualified medical professional. Lone Star Neurology is a reputable clinic. Our experienced specialists will provide a personalized approach. We guarantee the safety and suitability of the treatment for our clients.
Explore the potential benefits and risks of Botox injections. You will be able to make an informed decision about pain treatment. And you'll find the right treatment option that addresses your specific needs.
FAQ
Can Botox injections completely cure neck pain?
Botox injections may provide significant pain relief and improve functionality, but they may not completely cure neck pain in all cases.
How long do the effects of Botox injections last? 
Botox injections' effects on neck pain can last several months, but the duration varies among individuals.
Are Botox injections painful?
Discomfort during Botox injections is usually minimal. The doctor may use local anesthetics to reduce discomfort. As a last resort, doctors may use ice packs.
Can Botox injections for neck pain be combined with other treatments?
You can combine Botox injections with other treatments, such as physical therapy or medication, to provide a comprehensive approach to treating neck pain. It is best to consult with a healthcare provider for personalized recommendations.