Williams syndrome is a genetic disease diagnosed among people of both sexes. The first signs of pathology can be in newborns. And with adulthood, the symptoms become more pronounced. Usually, doctors diagnose Williams disease at an early age of kids. It has the following symptoms:
Mild or moderate intellectual disability;

Slow development of motor skills;

High blood pressure.
Symptoms of it can be in different parts of the body. It can be about face, heart, and personality. People with Williams syndrome can have a delay in mental development. But at the same time, they tend to show extreme interest in other people. The cause of this syndrome is a chromosomal mutation. That is, a child is born without specific genes.
It usually happens during the formation of an egg cell or sperm. In some cases, this disease inherits from the affected father in an autosomal dominant manner. Doctors define this diagnosis by paying attention to symptoms and genetic testing.
What is Williams Disease?
Williams disease is a developmental disorder that affects many parts of the body. This disease is characterized by:
Distinctive external signs;

Impaired cognitive development; 

Cardiovascular abnormalities. 
It can happen due to the mutation of genes meiosis. The mutation leads to the loss of 1.6-1.8 million pairs of nucleotides from the gene chain. People with Williams syndrome can have a different number of genes. The intensity of symptoms and their nature depend on this indicator. 
A person has about 25,000 genes in their body. And it is enough to remove 30 of them, as a person's life and health completely change. One example is Williams syndrome. It is a genetic disease caused by the absence of several genes. Their number can vary from 25 to 29.
The disorder is equally common in both girls and boys. Despite the pronounced mental disabilty patients can reduce the symptoms of Williams syndrome. Corrective psychological work with such patients can significantly improve their quality of life. 
Williams syndrome in children can have different ways of manifestation. But one of the most noticeable symptoms is the "elf face." It has:
Round nose;

Enlarged mouth;

Plump lips;

Full cheeks;

Small pointed chin.
Treatment of this syndrome is symptomatic. To end congenital heart defects, doctors perform some surgical interventions. And to improve the patient's social life, doctors conduct psychological sessions.
Symptoms of Williams Syndrome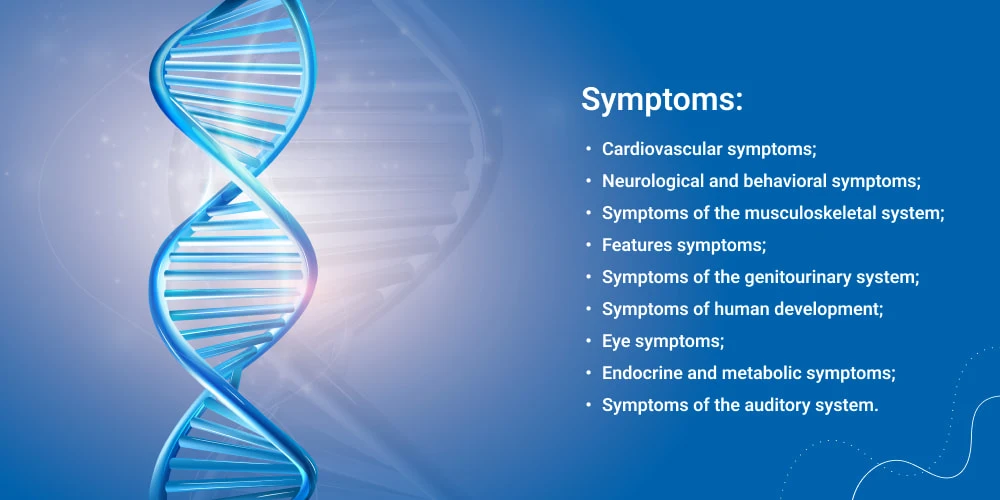 The manifestations of the disease depend on the absence of specific genes. So, the symptoms can be different for everyone. They can affect both heart health and cognitive processes. Symptoms in children are noticeable from birth. But as soon as Williams syndrome begins to form, it acquires more pronounced symptoms:
Cardiovascular Symptoms
In most cases, a person with this disease has problems with the cardiovascular system. It manifests in the pulmonary artery. But, depending on the absence of specific genes, problems can arise in other arteries. Symptoms can be as follows:
Narrowing of the aorta;

Narrowing of blood vessels;

Arterial hypertension.
Neurological and Behavioral Symptoms
Williams syndrome in kids is characterized by dynamic behavior. Such children are highly sociable. But at the same time, they can have some neurological issues. So, neurological and behavioral symptoms include:
Mild or moderate intellectual disability;

Mental asymmetry. Difficulties can appear in the psychomotor area, while others remain intact;

A highly developed sense of musicality;

Slow development of motor skills and language aquisition.
Symptoms of the Musculoskeletal System
Young children with this condition often have weak muscles. There is also weakness in the joints. With age, this can turn into worse symptoms:
Problems with the spine;

Low muscle tone;

Relaxation or contractures in the joints;

There is no joint functioning.
Features Symptoms
Most people with Williams syndrome have similar facial features:
Short and slightly upturned nose;

Narrow forehead;

Growth of the skin around the eyes;

Bulging cheeks;

Small jaw;

Changed bite of the teeth.
Symptoms of the Genitourinary System
The absence of specific genes can cause weak functioning of some organs. It is for this reason that there can be such symptoms as:
Tendency to urinary infections;

Nephrocalcinosis;

A tendency to form abnormal cavities that form in the digestive system.
Symptoms of Human Development
Most people with Williams syndrome have some mental disability. 50% of children have attention deficit disorders:
There are problems in learning;

Cognitive impairments;

Different forms of walking learning;

Delay in the development of fine motor skills.
Eye Symptoms
Symptoms can also concern the eyes. The iris of the eyes has a blue color with a pronounced star pattern. It has a significant impact on health and includes the following problems:
Myopia

;

Strabismus;

Star iris.
Endocrine and Metabolic Symptoms
Other manifestations of Williams syndrome are problems of the endocrine-metabolic system. The main symptom is an increased level of calcium in the blood. It can cause:
Delay in the development of the endocrine system;

Transient hypercalcemia in childhood.
Symptoms of the Auditory System
Williams syndrome has considerable hearing problems for kids. Children with this disease are much more sensitive to sounds than others. Specific frequencies or noises can be painful or annoying to them. With age, this feature disappears, but at a younger age, they have:
Increased sensitivity to sounds or hyperacusis;

Tendency to inflammation of the ears.
Williams Syndrome Causes
Scientists have not yet studied the causes of this disease. But the most important reason is the deletion of genetic material from a certain region of chromosome 7. It is known that the paired set of chromosomes in Williams syndrome preserves in a complete form:
Since the pathology usually occurs spontaneously, the condition is congenital and not hereditary. 

Only in rare cases is the disease hereditary. It is when at least one of the parents has Williams syndrome.

Such genetic anomalies usually arise due to a negative influence on the body of the child's parents. For example, it can be living in a polluted environment, a harmful profession, etc. But such gene mutations can also appear without any plain reason. 
Besides all that, there is a lot of misinformation about Williams syndrome. There is information that one of the genes, which is not in the chromosome, is responsible for elastin synthesis. A lack of this protein can be one of the Williams syndrome causes. It includes stenosis, a tendency to suffer from hernias, or signs of premature aging.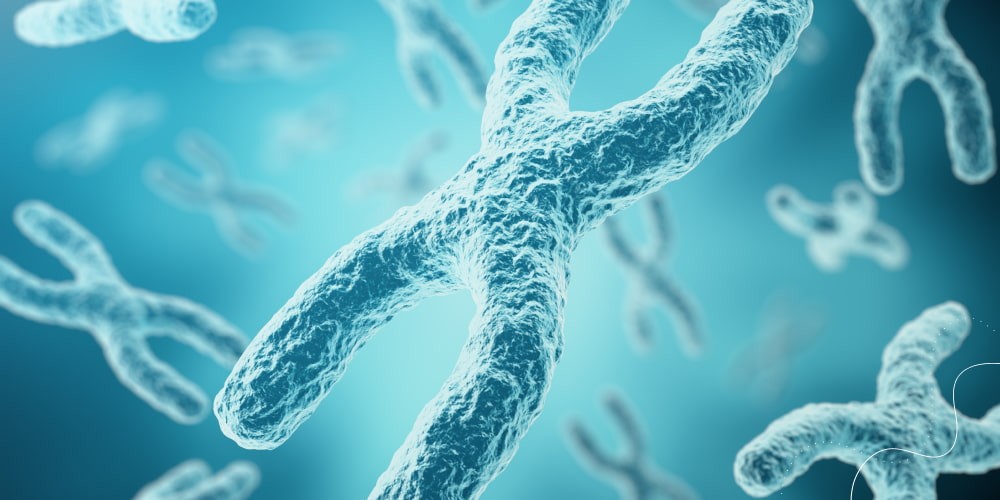 How does Williams Syndrome Affect My Child?
Williams syndrome can bring specific problems for kids. This syndrome causes other diseases in children from early childhood. It can affect the heart, kidneys, pressure, joints, etc. Symptoms begin to appear from childhood, which complicates the situation:
At first, the child has slow motor development. They learn to walk later than children usually do because they have joint problems. Also, this syndrome makes it difficult to understand speech.
The child can face cardia, liver, and kidney problems. Usually, doctors appoint this examination to prescribe treatment in advance. It helps prevent the development of cardiovascular diseases. It also reduces the risk of issues with urination.
A child with this syndrome has many problems. But sometimes it has positive sides. This syndrome is characterized by long-term memory. But even with this positive side,

people with Williams syndrome

can have attention deficits.

Besides, Williams syndrome can cause a large amount of potassium in the blood. It affects the child's heart system and can cause different diseases. In older age, it can trigger

diabetic neuropathy

.

Although children with Williams syndrome learn worse than their peers and need an individual approach, they can learn the educational material. They have strong communication and verbal skills. This way, they can cover up their cognitive impairments.
Unfortunately, this disease has more negative symptoms than positive ones. And Williams syndrome can cause many other conditions with it. As a result, it has a heavy impact on children's health. But with the proper treatment and psychological counseling, you can reduce all that. Thus, children can improve their quality of life and ease diseases due to this syndrome.
A Word From Lone Star Neurology
To know what Williams syndrome is, you need to conduct medical research. Because specialists have not identified the cause of this disease. But its symptoms can occur in anyone with a predisposition to this disease. And it manifests itself in different stages. 
So, if you have encountered such a syndrome and need to understand it in more detail, Lone Star Neurologists can help you. We provide all the information about this or that disease and can make a diagnosis. After that, you can undergo treatment and feel healthy.
FAQs 
At what age are you most likely diagnosed with Williams syndrome?
Doctors usually diagnose Williams syndrome in early childhood. It is about 3-4 years old. First, they observe facial features characteristic of this syndrome. After that, they prescribe an examination.
How long do children with Williams syndrome live?
Most people with Williams syndrome have an average life expectancy. But some people's lives can be short due to severe symptoms. So, everything depends on how the syndrome develops.
Is Williams syndrome a form of autism?
Williams syndrome is not a form of autism. These are two different disorders. They only have similar behavioral and cognitive deficiencies.
Why is Williams syndrome called the Happy syndrome?
Williams syndrome results in a variety of medical features. It has developmental features, one of which is a frequent outward presentation of substantial happiness. That's why people call it the Happy syndrome.
How common is Williams syndrome?
Williams syndrome affects an estimated 1 in 7,500 to 18,000 people. It is known to occur equally in both males and females.