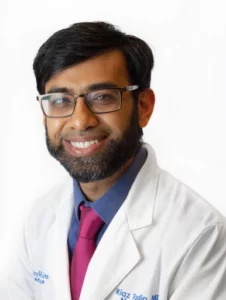 Riaz Tadia MD
Dr. Tadia treats patients in our Frisco and Richardson locations. Dr. Tadia completed his neurology residency at the University of South Alabama and fellowship training in Neurophysiology and Epilepsy at the University of Minnesota Medical School. He comes to Lone Star Neurology from Baylor Dallas where he was a Neurohospitalist.
Dr. Tadia is Board Certified in Neurology and Neurophysiology. He evaluates and manages conditions including migraines, stroke, movement disorders, neuromuscular disorders, and especially seizure disorders, such as epilepsy.
Dr. Tadia lives in Plano and enjoys being outdoors, playing sports, hiking and travel. He maintains admitting privileges at Methodist Richardson and Texas Health Plano Presbyterian Hospital.
 Board Certifications
American Board of Psychiatry and Neurology
Clinical Neurophysiology (Psychiatry and Neurology)
Neurology (Psychiatry and Neurology)
 Education and Training
Medical School – Ross University School of Medicine, Doctor of Medicine
University of South Alabama, Residency in Neurology
University of Minnesota, Fellowship in Neurophysiology and Epilepsy
Our Offices Where the Provider Works