TIAs or mini strokes last only a few minutes but can affect a patient's long life. Such a problem can be an important warning that a patient will have a stroke very soon. If you or a loved one is experiencing symptoms of a TIA, you need to see a doctor immediately.
A mini-stroke can shorten life expectancy by 20%. During a mini-stroke, blood flow to part of the brain is temporarily blocked or reduced. At this point, the patient may experience several symptoms that disappear shortly. However, even though the symptoms may disappear quickly, the risk of experiencing a real stroke shortly remains high. You have a short time between a TIA and a possible stroke. You should spend it on quality and immediate examination. It may help you avoid a stroke.
In this article, we will talk about a mini-stroke and what happens after a mini stroke.
What is a Mini Stroke (TIA)?
A transient ischemic attack (TIA) is a set of symptoms similar to a stroke. TIA is also called a mini stroke. It lasts for a short time and does not cause permanent damage. However, a TIA may be a warning that the patient is about to have a stroke. 
A lot of patients want to know about prognosis for TIA. So, a third of patients who have a TIA experience a stroke. Just because a patient has a TIA does not necessarily mean that they will have a stroke. The task of the patient is to consult a doctor urgently and by all possible means to prevent a stroke.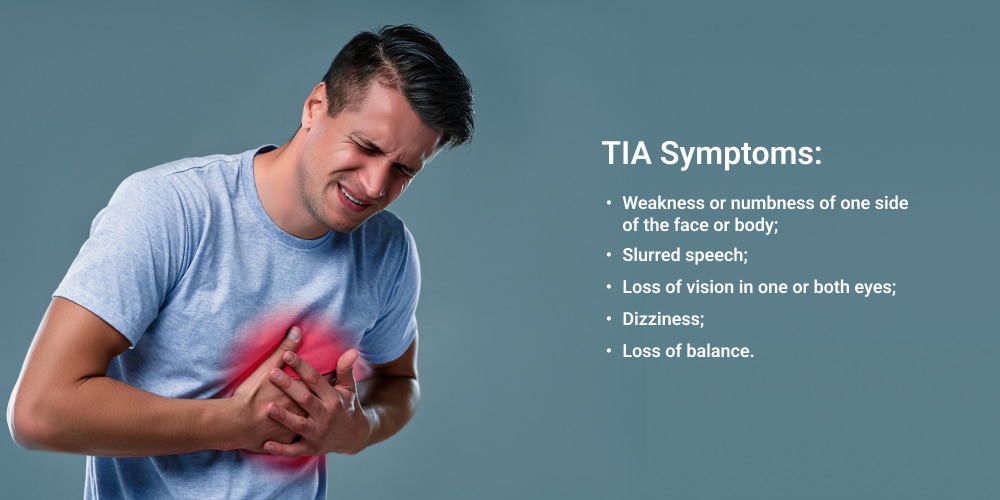 Some people are interested in distinguishing a TIA from a real stroke. The fact is that both of these conditions have similar symptoms. The difference lies in the degree of their severity and duration. So, for example, a TIA lasts about a couple of minutes, while a stroke lasts more than a day. With a stroke, the symptoms are too pronounced. It can affect your ability to move around, speak, or even go to the toilet.
We have prepared a list of TIA symptoms you should be aware of. Let's look at this in more detail.
TIA Symptoms
Symptoms of transient ischemic attacks resemble the first signs of a stroke. They include the following characteristics:
Weakness or numbness of one side of the face or body;

Slurred speech;

Loss of vision in one or both eyes;

Dizziness;

Loss of balance.
A person may experience a TIA more than once in a lifetime. With each case of TIA, symptoms may recur or be different. It depends on the affected area of the patient's brain.
How Long Does a Mini Stroke Last?
The symptoms of a mini-stroke can go away within a few minutes, or they can persist for twenty-four hours.
According to the National Stroke Association, 40% of patients who experience symptoms of a mini stroke experience a real stroke. Half of these strokes happen to the patient within a few days of the mini-stroke.
Also, we need to note that after mini-stroke cases, 10-15% of patients experience a stroke within three months.
Mini Stroke Prognosis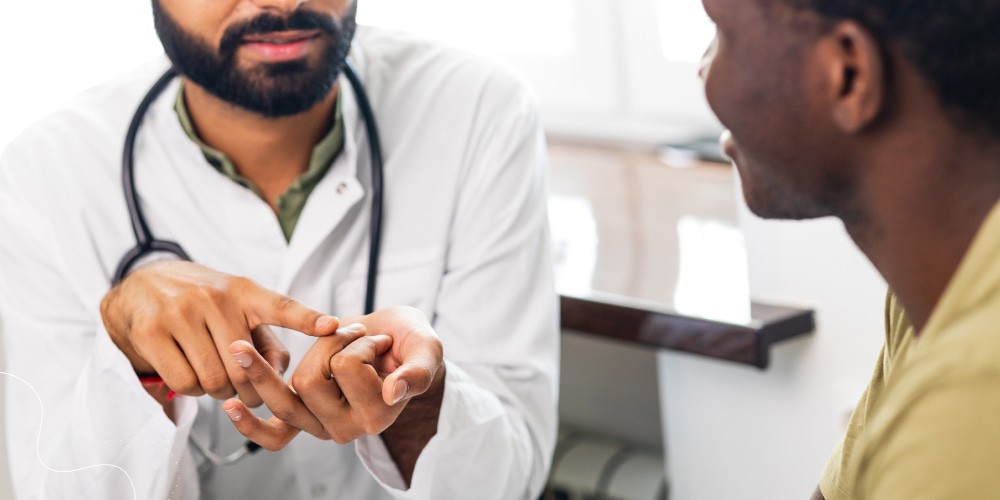 Now, we need to talk about the prognosis for TIA. Maybe you want to ask questions such as: Can you die from a mini stroke? Although a full recovery is possible after a stroke, it can affect a patient's life expectancy. On average, life expectancy can be reduced by nine and a half years after a stroke. 
The likelihood of shortening life expectancy depends on many factors, such as:
Efforts were made to recover. Getting enough medication and eating the right food, can help you live longer.
Pre-existing states.

Often strokes are combined with some other diseases. So, it could be diabetes, high cholesterol, or cardiovascular disease. Controlling these conditions can also improve life expectancy.

Age. Older people with reduced physical and mental capacity and experienced a stroke have a lower chance of recovery.
Doctors advise not to think about life expectancy after a stroke. It is better to pay attention to the treatment for the elderly after a stroke. Happiness, comfort, and care of loved ones also play a significant role. It can increase the life expectancy of the patient.
Why do Strokes Affect Mostly Elderly People?
Most often, a stroke occurs in old age. It happens for reasons such as:
The effect of vasoconstriction or narrowing of the blood vessels that carry oxygen to the brain. It worsens with age, and therefore the risk of stroke increases.
Improper nutrition throughout life. It often leads to the formation of blood clots and, as a result, strokes;

Genetic predisposition;

Decreased activity in old age. It leads to a deterioration in the cardiovascular system's functioning and provokes the appearance of blood clots.
Many older patients want to know what happens after a mini stroke. If an older person has a stroke, the patient may lose some essential skills and abilities, such as:
Sit, stand, and keep balance;

Talk;

Understand speech;

Perform basic self-care tasks.
An older person may try to lead a healthy lifestyle. However, some factors can be stronger than stroke resistance. If you've had TIA, there are a few things you can do to prevent a stroke and increase your life expectancy. So, do following:
To give up smoking. It includes both conventional cigarettes and various alternatives. Even nicotine gum, patches, or e-cigarettes can increase your risk of stroke. It is because nicotine is a vasoconstrictor. Because of this, a person may experience a blood clot.
Cholesterol control. Elderly people should constantly control the level of cholesterol in a person's blood. If cholesterol is above normal, the patient or his relatives should try to reduce it. To do this, you must constantly consult with your doctor so that he can advise on the right drugs or diet.
Fight against diabetes. If an elderly person has diabetes, this can adversely affect the state of the cardiovascular system. It may increase the risk of blood clots and vasoconstriction. Thus, it is necessary to fight diabetes to prevent a stroke.
Proper nutrition. It is worth reducing the consumption of fatty foods to prevent a stroke and be generally healthy. It will reduce the likelihood of fatty deposits accumulating in the blood vessels. Thus, proper nutrition can reduce the risk of stroke in old age.
Physical activity.

Physical exercise is essential for any age. Regular exercise will help improve the cardiovascular system. It leads to an increase in the elasticity of blood vessels and oxygen saturation of the blood.
Bottom Line 
Thus, this article looked at a TIA stroke and its impact on life expectancy. We also looked at why a mini-stroke often appears in old age. If you have a mini-stroke, you have little time to prevent a real stroke. Seek immediate medical attention and follow the instructions.
Lone Star Neurology helps diagnose even the most complex neurological diseases and successfully treat them. With the help of our modern equipment and highly qualified specialists, you can save yourself and your loved ones from the consequences of neurological diseases. Make an appointment with our specialist right now by phone: 214-619-1910.
FAQs 
Can you live a full life after a mini-stroke?
Yes, a mini stroke does not cause damage or disruption of functionality. However, a mini stroke can be a serious warning that you may soon have a full-blown stroke. However, if you prevent a stroke in time, you can live without restrictions.
Can you die from a mini stroke?
Patients do not die from an attack of mini stroke. If a patient has had a mini-stroke, he should do everything possible to prevent a stroke. Otherwise, there is a risk of severe complications and death.
The TIA itself may not have severe consequences for the patient's life. However, it can lead to some other problems, such as stroke. In this case, the consequences can be very serious and irreversible.
What is the main cause of TIA?
A TIA is usually caused by blockage of blood vessels by a blood clot. This is formed anywhere in the body and enters the vessels that supply the brain.