Pneumonia is an inflammation of the lungs caused by bacteria, viruses, or fungi. It can appear as an independent disease but often becomes a complication of other diseases (influenza, coronavirus, AIDS and other immunodeficiencies, lung tumors, bronchiectasis, etc.). Inflammation affects the lower respiratory tract – coughing, phlegm appears, and shortness of breath with a large spread of the process. Almost always, pneumonia is accompanied by an increase in body temperature, weakness, and malaise. About 1 million adults in the US seek care in a hospital due to pneumonia every year, and 50,000 die from this disease.
Any pneumonia is dangerous because it can lead to other serious complications such as pulmonary edema or abscess, acute respiratory and heart failure, myocarditis, sepsis, blood poisoning. Of course, there is a form of illness that does not require hospitalization like walking pneumonia – this is not a medical term that denotes a mild form of the disease, mainly due to the penetration of the pathogenic bacteria Mycoplasma pneumonia into the patient's body. However, it is better not to take risks and consult a doctor in a timely manner if you find characteristic symptoms of the disease.
For those who are interested in what it is, in the article, we will tell you in detail about pneumonia, features of the diagnosis of pneumonia, its most correct diagnostics, and prevention. We give in detail the symptoms of pneumonia, by which it is possible to unambiguously determine the presence of the disease and take timely measures.
How does
pneumonia
damage the
lungs
?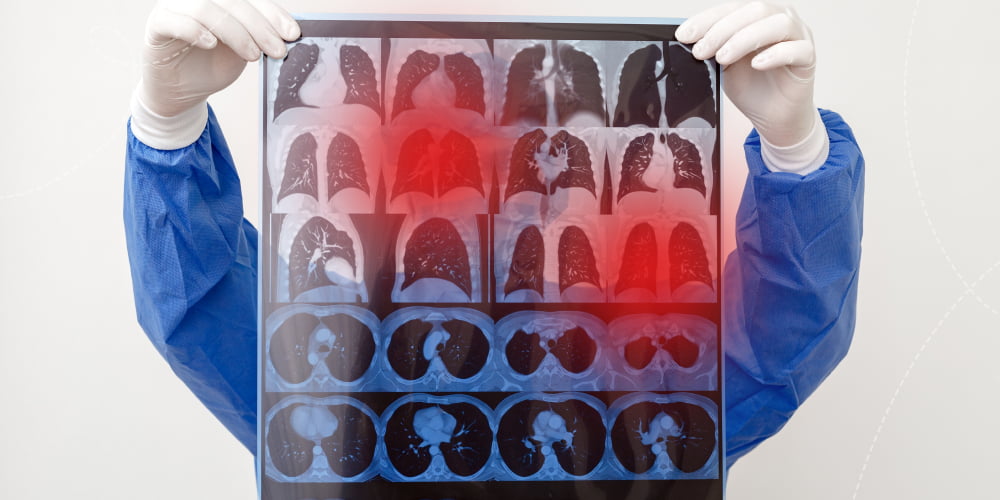 Pneumonia affects the alveoli – the ends of the lungs, and they fill with fluid or pus. Fibrosis of the lungs is characteristic of atypical pneumonia, as well as for the new coronavirus infection (COVID-19). This is a complication in which the lung tissue is replaced by connective tissue, a pathological proliferation of connective tissue occurs.
Alveoli are small air cells in the lung. When their volume shrinks due to fibrosis or fluid accumulation, a critical impairment of respiratory function occurs. A person has shortness of breath, cough with phlegm (sometimes with blood), body temperature rises.
Sometimes the disease is asymptomatic, and this is especially dangerous since the carrier of the virus and pathogens continues to lead a familiar and, no less important, social life. Meanwhile, the lungs are gradually deteriorating. If pneumonia with focal lesions of the lungs is not detected in time and treatment is not taken, the consequences can be severe and irreversible.
Pneumonia is unilateral and bilateral. If the lungs are affected by 10-25% or less, then the disease is amenable to outpatient treatment. Damage to the lung tissue by 30-50% is already an indication for hospitalization. If more than 50% of the lungs are affected, then this indicates a severe form of pneumonia.
However, signs such as respiratory failure, cough, fever, and runny nose are also characteristic of other diseases: 
How can you diagnose pneumonia and distinguish pneumonia from other respiratory diseases? Let us consider below what symptoms are characteristic of pneumonia, who is most susceptible to pneumonia, and how it is diagnosed.
The
reasons
for the development of
pneumonia: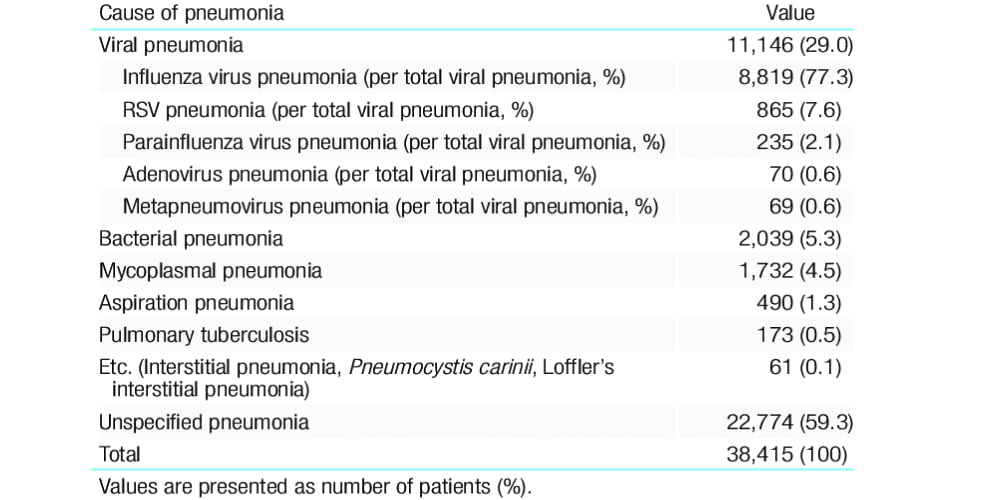 getting into the lungs of bacteria (pneumococci, staphylococci), mycoplasmas, fungi, viruses through respiration, less often – blood, lymph;

decreased immunity (in a normal state, immunity is able to cope with most pathogens);

complication against the background of respiratory tract infections, diseases of the cardiovascular system; alcohol abuse – previous surgery (especially on the chest);

exposure to chemical elements from the environment;

respiratory tract burns.
Symptoms of pneumonia
Consider the symptoms of classic pneumonia, the development of which is caused by pneumococcus:
an increase in body temperature to a critical 39-40 degrees;

severe cough with sputum from the lung of an adult;

painful sensations in the chest during coughing and breathing;

wheezing that can be heard when listening to the lung.
Pneumonia has various manifestations and symptoms of disease in adults, according to which an experienced doctor will immediately determine the stage and features of the pathology.
With an atypical manifestation of pneumonia, which is provoked by mycoplasma or chlamydia, other symptoms in adults are also characteristic:
high temperature, which rises to 40 degrees;

dry cough, which soon turns into a wet cough with a large amount of sputum;

muscle and tissue pain;

persistent sore throat;

general poor health.
Often noticing symptoms such as fever, patients mistake pneumonia for a common respiratory illness. But you should always take into account the classic symptoms of pneumonia. Their presence indicates the immediate need to start treating pneumonia in a hospital clinic. An experienced physician makes the final diagnosis of pneumonia after taking laboratory tests and ensuring that a thorough diagnosis is carried out in order to deal directly with the cause effectively.
The stages of pneumonia are characterized by symptoms that differ somewhat in the specifics of how they proceed in people of different ages, as well as on the basis of a tendency to chronic diseases. Light suggests that the patient has had a fever for several days, and women and men have similar symptoms. The patient also has a cough with sputum production, which is constantly increasing with a mild form. The reason for this is the constant accumulation of sputum.
Pneumonia occurs at a severe stage with a critical increase in the maximum temperature for a long time, which does not go astray. Shortness of breath, pallor of the skin, blue skin tone in the nasolabial area are also characteristic. These symptoms of the disease indicate that the patient needs immediate hospitalization.
Can
walking pneumonia
go away without
treatment
?
Pneumonia may not go away by itself, even if it is walking pneumonia. This disease can lead to the death of a person, so it is vital to see a doctor. This is one of the most dangerous and frequent diseases of the respiratory system. The danger lies in the fact that specialists do not always have time to make a diagnosis in time. People do not go to the doctor with a cough and fever, thinking that they have walking pneumonia. The patient's disease begins to spread. The condition can worsen to bilateral pneumonia, which is severe, long-term treatment, or chronic illness.
A hundred years ago, before the discovery of penicillin, pneumonia took the lives of sick people. Science and medicine do not stand still – for a hundred years, and our life has changed dramatically. People have antibiotics in every first-aid kit, and in hospitals, operations are performed on modern equipment. However, pneumonia is still on the list of the deadliest infectious diseases and should not be underestimated.
Which
doctor
treats
pneumonia
?
For patients interested in which doctor treats the disease in the clinic and is engaged in diagnostics, the answer is unambiguous – the therapist or pulmonologist and a neurologist treat when complications that affect the nervous system are observed. Doctors prescribe laboratory tests to determine the presence of bacteria and viruses of a specific etiology.
Our clinic, which has been operating for many years, employs doctors who can clearly establish the diagnosis, causes, symptoms of diseases. These activities are carried out in order to professionally diagnose and treat pneumonia with a favorable prognosis of recovery. All the doctors of the clinic have many years of experience, which allows them to conduct a high-quality examination and cope with the disease. Doctors regularly attend refresher courses, which makes it possible to treat pneumonia with high success.
When to see a doctor?
See your doctor if you have trouble breathing, chest pain, persistent fever (38.5 C) or higher, cough, especially if you cough up phlegm.
People from risk groups must see a doctor:
Adults over 65,

Children under 2 years of age with signs and symptoms,

Patients with exogenous intoxication (alcohol, drugs),

People with poor and satisfactory health conditions or weakened immune systems,

Patients with chronic diseases, especially in the stage of decompensation (obstructive bronchitis, heart failure, diabetes mellitus, liver cirrhosis),

People receiving chemotherapy or medications that suppress the immune system
Pneumonia can quickly become a life-threatening condition for some older adults and people with heart failure or chronic lung disease.
How to
diagnose
pneumonia: a diagnosis
algorithm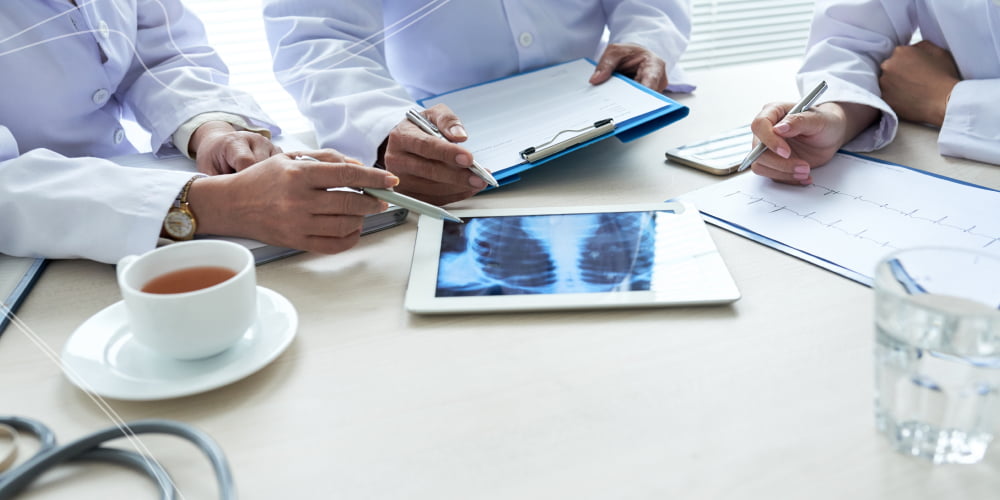 Consult your doctor – after examining your case, the doctor will make a plan of examination. Inflammation of the lungs is classified according to a number of signs (pathogen, localization). Pneumonia can be bilateral, focal (bronchopneumonia), viral-bacterial – and the treatment regimen depends on this. Be prepared for tests and radiation diagnostics if you suspect pneumonia.

Get tested – laboratory

PCR diagnostics

will help differentiate pneumonia. This is important because viral and bacterial infections are treated differently. However, under certain circumstances, tests can give a false positive or false-negative result. For example, it is known that with the COVID-19, primary analyzes have an error of about

30%

.

Check the lungs with reliable imaging tests — a chest scan will show lesions in the lungs if any. Today, computed tomography (CT) of the lungs is recognized as the most informative and accurate way to diagnose pneumonia.
Unlike fluorography and X-ray, CT of the lungs will reliably show areas of lung damage even at an early stage of pneumonia (1 and 2), when the percentage of destruction of lung tissue may not exceed 10%. On tomograms, such areas of the lungs look like "frosted glass" or light. At the same time, the patient will have time to start treatment on time, and fluorography or X-rays do not need to be done. When the disease turns into a more severe form 3 or 4 (a regular X-ray will also show such pneumonia), it is no longer possible to cope with pneumonia at home and without subsequent special rehabilitation.
If the patient is really sick with pneumonia, CT scans visualize foci of destructive changes (swelling of the walls of the alveoli, accumulation of fluid), while the images will show several "frosted glasses". For example, with coronavirus they are usually located on both sides peripherally – in the back and lower parts of the lungs. One "frosted glass" may indicate other diseases (allergies, bronchial asthma) or an oncogenic process.
Thus, doctors diagnose pneumonia by the presence of "frosted glasses" on the lungs' tomogram and their location. Additional methods of examination (pulse oximetry, blood, and sputum analysis) are needed to determine the tactics of treatment.
Diagnosis of pneumonia is a set of activities in which doctors compare data and key markers to make an accurate diagnosis. The success of therapy and rehabilitation after pneumonia will depend on this, since it is also essential to minimize the consequences of the illness.
CT of the lungs for SARS and
COVID-19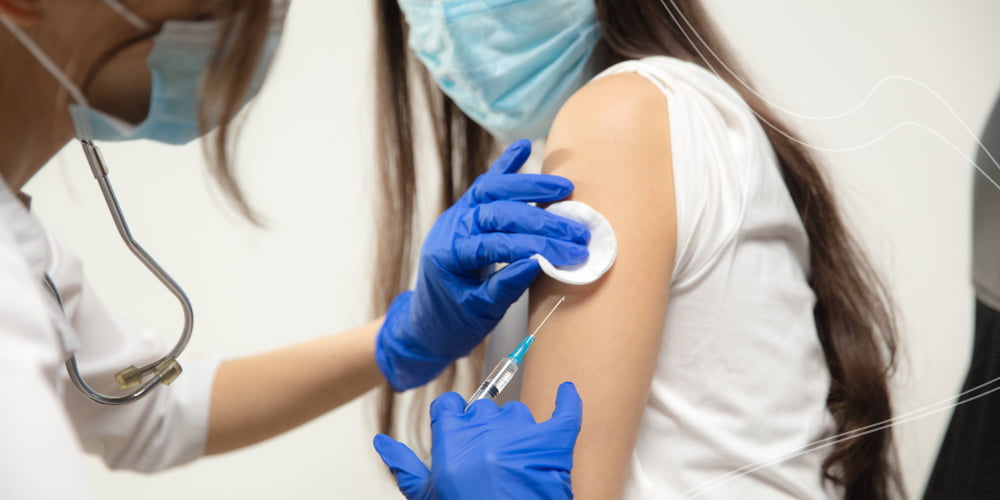 Today, CT of the lungs is considered the "gold standard" to diagnose pneumonia since it shows with high accuracy the degree of lung damage even in the early stages. The sensitivity of fluorography and X-ray is significantly lower. For example, on an X-ray, the doctor will see areas of non-uniform darkening, which can be interpreted as pneumonia, when pneumonia has already reached stages 3 and 4. The error is not excluded in laboratory analyzes. Therefore, the most optimal type of radiation diagnostics for pneumonia will be modern computed tomography, eliminating the need for other X-ray studies.
During the epidemics of SARS (2002) and MERS (2012) atypical coronavirus pneumonia, doctors faced a problem – the inaccuracy of laboratory tests. In the case of the new coronavirus infection COVID-19, approximately 30 out of 100 patients who underwent blood and sputum tests reported false-negative results. Only when the condition of the patients worsened was the CT scan revealed clinically significant areas of destruction of the lung tissue. It turned out that coronavirus pneumonia is best visualized on CT of the lungs. Areas of alveolar lesion correspond to "frosted glasses" – bright areas of the lungs pronounced on CT scans.
CT of the lungs is done as directed by a doctor or on your own if you have symptoms of pneumonia. If you suspect SARS or SARS is caused by COVID-19, it is recommended to do a CT scan of the lungs. In this case, the study will determine the specifics of the changes, which means it will be the most informative. If necessary, in a medical institution, the patient may be assigned to other examination methods.
Prevention of pneumonia
Measures to prevent pneumonia include:
Flu shots

. They provide protection against pneumococcus, which is the most common cause of

pneumonia

. Vaccination is compulsory for young children, people in the elderly after 65 years, as well as for people with chronic diseases.

An active lifestyle. Smokers need to quit the habit to protect their lungs from disease. In hazardous industries, workers must protect the respiratory tract with bandages or respirators.

Rejection of bad habits. Pneumonia can occur in patients with a sedentary lifestyle, and they need to do massage, carry out therapeutic and respiratory gymnastics, and take antiplatelet agents.

Staying at home. Airborne droplets can transmit inflammation of the lungs, so you need to limit communication with sick people, during periods of viral epidemics, do not visit large crowds of people. 
The prevention of pneumonia includes hardening from an early age, avoiding hypothermia and dangerous sun, airing the room from dust, and wet cleaning. It is necessary to treat colds and viral diseases in time in order to prevent a chronic form. 
As for the medical staff caring for patients must follow the rules of work: 
always wear gloves,

disinfect hands after contact,

wear gauze bandages,

keep the distance between themselves and the patient, 

infectious patients should be placed in separate rooms, isolated from each other.
Prevention of pneumonia in children is important from the very first years of life. For the first six months, the child needs nutrition exclusively with breast milk in order to strengthen the immune system and strengthen the general condition of the body. It contains essential amino acids and substances that are not found in artificial nutrition. You can start gradual hardening in childhood, do gymnastics, and spend more time in the fresh air. The child's room should be well ventilated, especially before bedtime, regularly cleaned of dust and dirt. There should be no dampness in the house, as it is one of the dangerous factors in the development of pneumonia.
There are studies that have found that zinc can reduce the risk of pneumonia in children. Products containing zinc:
Zinc can be taken in the form of special dietary supplements. Studies have shown that with the introduction of this mineral into the diet of children, the incidence of pneumonia decreased. The recommended dose of zinc per day for newborns is 5 milligrams per day. For children from one to four years old is 10 milligrams. It is not recommended to take minerals on your own, only after consultation with a pediatrician.
Remember that even with a mild form of the disease 'walking pneumonia', complications can occur. Therefore, if you experience similar symptoms described in our article, it would be better to contact qualified specialists.